Glen Grant 1997 13 Year
Signatory Cask Strength Collection
Speyside Single Malt Scotch Whisky
59.3% ABV
$100
Website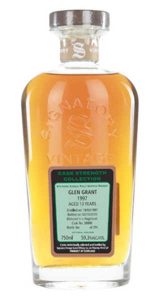 What the Bottler Says
AGED: 13 years
DISTILLED ON: March 1997
BOTTLE ON: February 2010
MATURED IN: Hogshead
CASK NO: 38886
BOTTLE NO: of 291
Glen Grant Distillery, built in 1840 by brothers, John and James Grant, is located in the heart of Speyside. The distillery is now the world's second-largest single malt whiskey brand.
TASTE NOTES
COLOR: Light amber
NOSE: White grapes, a fresh apple tart and ripe pears
TASTE: Similar to the nose, with hints of vanilla, oak and white pepper.
FINISH: Medium, white pepper spice
What Gary Says
Nose:  Buttered yeast roll, honey, malty, pears, apricots, subtle earthiness with heather.
Palate:  Creamy mouthfeel but tart and sharp, canned pears with fruit salad and freshly cracked pepper.
Finish:  Moderately long and drying with pepper spice and pears.
Comments:  This has a sour/tart note to it that reminds me a bit of sour fruit gummy candies. It clouds up nicely with a bit of water, reflecting the non-chill filtration (although it doesn't state that on the label from what I can tell). I'm not familiar with Glen Grant, but this doesn't leave me with seeking out more specifically. Any one cask might be just that (a one off), but I think the folks at Signatory do a pretty good job so can't help but think that this isn't a fair representation of Glen Grant (albeit at higher proof).
Rating: Average/Stands Out