Restoration Kentucky Rye Whiskey
2020 Batch 2
49.5% ABV
$40
Website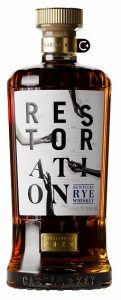 What the Distillery Says
The release of Castle & Key's first whiskey
Whiskey takes time. We started this journey in 2014, barreling our first product in 2016. In 2020, we feel it's ready to share.
Each batch of our Restoration Rye Whiskey is blended using a series of pods. Each pod is created by grouping barrels to create a specific sensory profile.
Size: 57 Barrels
Mashbill
17% Yellow Corn
63% Rye
20% Malted Barley
Aroma: Bright, Lemon Peel, Toasted Oak, Apricot, Wild Flower, Honey, Graham Cracker
Taste: Pie Crust, Honeysuckle, Mint, Agave Nectar, Dry Cinnamon, Light Stone Fruit
Finish: Cooling, Spearmint with light mouth numbing
What Gary Says
Nose:  Intense mint, dill, orange and lemon zest, bit of anise, tarragon, malt, hints of candied tropical fruit (maybe pineapple).
Palate:  Honey, citrus spice with cinnamon, mint, corn syrup and pepper.
Finish:  Short to moderate in length with minty sweetness and pepper.
Comments:  First thing that caught my eye as a whisk(e)y geek was the absence of 'straight' on the label. I scratched my head and pondered what the implications were (as the possibilities didn't seem to align with what I would expect). I reached out to Castle & Key to ask if they could shed any light, and they responded that there "…is no particular reason as to why the label does not say 'Straight Rye Whiskey'. In fact, future labels will be changed to designate it as a 'Straight Rye Whiskey'". Was glad to hear that (as it implies this qualifies in every way), and glad they will update future labels. But I digress – the whiskey itself definitely stands-out as unique, with some herbal spice notes on the nose to go with the minty/dill that rye fans such as myself enjoy. The higher malted barley content I'm sure is a big contributor to that, and I can't wait to see some more mature rye coming out of Castle & Key. If you ever have a chance to tour their facility – do it. Had the pleasure of visiting the site in April 2017 before it was open to the public and they were still working on the restoration itself, then again in April 2019 (when it was open to the public). What a difference two years made! If you love whiskey history, or just really cool picturesque surroundings – check it out.
Rating: Stands Out