Lagavulin 12 Year Old Cask Strength 2014 Edition
Islay Single Malt Scotch Whisky
54.4% ABV
$110-$180
Website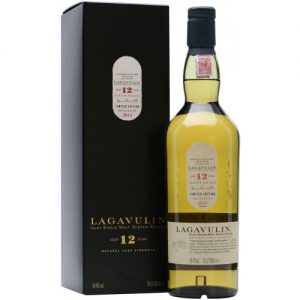 What the Distillery Says
From Islay's most famous distillery, this lively and clean expression of what was for whiskey writer, Michael Jackson, "Islay's most complex malt" combines the anticipated Lagavulin smoky intensity with gentle, fresh aromas and a delicious toffee and fruit sweetness. Add water and those clean scents are softer, accompanied now by a subtle interplay of mint and wood smoke. On the palate it's intense, sweet and oily, with lime zest wreathed in wood smoke, while when water is added it's like eating a slice of rich fruit-cake near a wood stove. Tasted neat, the finish is long and warming, with sweet wood smoke. With water it has a delicate sweetness, with fresh-cut pine and autumn smoke. This is a Lagavulin free from worries, with a lighter spring in its step.
What Gary Says
Nose:  Briny, smoky peat, sea air, earthy, bit of grilled lemons.
Palate:  Dry, malty sweetness with peat, bit of unsweetened lemonade, vegetal notes with sea salt and roasted pine nuts.
Finish:  Long and drying with honey, peat and sea salt.
Comments:  Lagavulin wears the higher ABV well (not that this is a shock, as I can't think of any whiskey I wouldn't enjoy at CS over a 4x% bottling). This is significantly lighter in color than the standard bearer 16 yr which I tried side-by-side. A similar nose to the classic 16 yr, with a bit more citrus neat. Palate is intense, and a bit thicker mouthfeel. Not sure I'd say I like this better – it is a bit different, more intensity but a bit less complexity. The premium price would be a turn off for me – as it can be double the price of the 16 yr which I think is insane.
Rating: Stands Out