Woodford Reserve Master's Collection Four Grain Kentucky Straight Bourbon Whiskey
Batch #1
46.2% ABV
$80 then, collectible now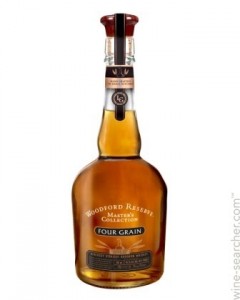 What the Distillery Says:
Kentucky bourbon distillers traditionally cook, ferment and distill a three-grain mash bill or recipe. Corn is the majority grain as required by bourbon regulation, and malted barley is necessary for natural starch-to-sugar conversion. That leaves the other grain choice to the distiller's discretion. Rye is the preferred grain for creating a spicy, fruity bourbon character. Wheat delivers a soft, nutty profile. In the Master's Collection Four Grain bourbon we have combined corn and malted barely with both rye and wheat. This unique combination has created a flavorful bourbon rich in fruity, baking spices and soft cocoa notes. It is a bourbon to sip and savor straight up, or with a single ice cube if you prefer it chilled.
What Richard Says:
Nose: There is no nose like a Woodford nose. It's prevalent in all their bourbons and bourbon experiments. Buttery oak with notes of citrus and a rich nutty character.
Palate: A great creamy sweetness. Heath toffee, Rolo caramels, slight acidic citrus. Layers of hazelnuts and vanilla.
Finish: Dry and clean with a linger hint of oak.
Comments: This was the first of the Master's Collection from back in 2005. I'm not one for "dusty hunting" or bunkering whiskey away. Anyone who regularly follows Whisk(e)y Apostle knows I'm a drink it if you got it kind of guy. That said, this one has been squirreled away in my cabinet for years. I recently opened it when we had friends over to the house for dinner. Honestly, I was surprised at myself for not opening this sooner which was the driving reason I opened it then. It wasn't a blind buy. I had a few bottles of batch 2 when it came out and loved it. I really wish this made it into production like Seasoned Oak to Double Oaked did.
Rating: Must Buy