The Glenlivet Nadurra Triumph Single Malt Scotch Whiskey
Distilled 1991, Bottle 08/09, Batch 0809A
48% ABV
Website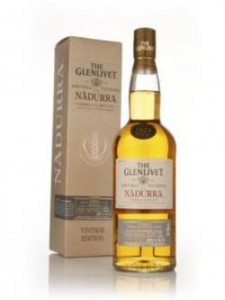 What the Distillery Says:
Matured in a mixture of American and European oak casks, Nàdurra Triumph 1991 is a limited release bottled at 48% and is the first Nàdurra expression based on a vintage statement.
This new expression has been selected from stocks that were distilled in 1991 using Triumph, a variety of the barley that is no longer used in the production of The Glenlivet. Keeping in line with the Nàdurra range, the Nàdurra Triumph 1991 is non-chill filtered, which better retains its natural flavours with an additional richness and a creamy mouth feel.
The additional resting time and a broader selection of casks provide a layer of complexity, and results in a whisky that is more fruitful and has a mildly sweeter flavour; sure to be appreciated by whisky lovers everywhere.
What Richard Says:
Nose: Hints of licorice, fresh grain, and citrus notes.
Palate: Sweeter than regular Nadurra or regular 18 year old Glenlivet. Creme brulee, peaches, poached pears, buttery and delicious. The Triumph barley adds additional complexity and depth to the malt.
Finish Surprisingly dry and slightly tannic. Unexpected given how juicy the palate was.
Comments: I'm am so sad this was a one off. It takes classic Glenlivet and really turns it up. It's vibrant, fresh, well balanced, and soothing. I'm even sadder that I waited so long to review it because my bottle is almost empty.
Rating: Must Try