Four Roses Single Barrel Limited Edition 2013 Release Barrel Strength Kentucky Straight Bourbon Whiskey
60% ABV
$85 – $95
Website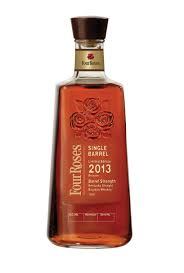 What the Distillery Says:
For the 2013 Four Roses Single Barrel Limited Edition release, we have once again hand-selected an uncut and non-chill filtered Barrel Strength masterpiece.
The celebration of 125 years of exquisite bourbon making begins with a single sip of this stunning 13-year-old barrel strength Bourbon. Hand selected by our Master Distiller from our 10 distinct Bourbon recipes, this Bourbon draws you in with delicate wisps of fresh honey and brown sugar, nutmeg and cinnamon. Light mint and wild berry notes mingle fancifully with the aromas of orange peel and fresh gingerbread. Dark chocolate truffle and spiced cookies lay like velvet on the palate and lead to a long and spicy finish that's so soft, smooth and mellow, you'll no doubt want to raise your glass and toast to 125 more.
Tasting Notes
Nose: Orange peel and fresh gingerbread.
Palate: Dark chocolate truffle and spiced cookies.
Finish: Long and spicy, yet soft smooth and mellow.
Recipe
OBSK – 13 years
What Richard Says:
Nose: Vanilla, spearmint, Granny Smith apples, citrus zest, and pumpkin pie spice.
Palate: Viscous with mouth coating layers of gingerbread cookies. Water brings out toffee and dark chocolate.
Finish: Cocoa powder and cayenne out of the bottle. With water it lingers with black pepper and oak and leaves a lingering flavor reminding me of a good cigar.
Comments: You might be tired of hearing me rhapsodize Four Roses but damn they make some good bourbon. This year's single barrel limited edition is no exception. I'm pretty late getting my review of this posted but if you can still find one then grab it.
Rating: Must Buy
A big thank you to Laura and the rest of The Baddish Group for sending me over a sample to review.