Redemption Sur Lee Straight Rye Whiskey
47% ABV
$60
Website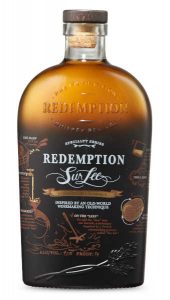 We would like to thank Deutsch Family Wine & Spirits and Praytell for sending us a sample to review.
What the Producer Says
Continuing the brand's commitment to deliver rare and unique rye-forward offerings, Redemption Whiskey announces the release of the latest addition to the brand's highly sought after award-winning Specialty Series: Redemption Sur Lee Straight Rye Whiskey. Redemption Sur Lee was created utilizing a first-of-its-kind whiskey-making technique inspired by the French sur lie winemaking process and designed to add layers
of complexity and roundness.
The resulting whiskey is an entirely unique expression of rye, with rich taste, buttery notes, a silky finish and a hint of rye spice.
This whiskey innovation begins with Redemption's award-winning classic pre-Prohibition rye mash bill, which boasts a rye content of 95%. Redemption then broke conventional whiskey-making norms by adding the flavorful backset that comes off the still during distillation, called the "whiskey lees," into the barrels before aging. By periodically rotating the barrels during the aging process, the "lees" and whiskey continually interact and naturally infuse the whiskey with even more flavor. The "sur lee" method invigorates the rye's complexity to further enhance and develop the whiskey. Before bottling, Sur Lee is non-chill filtered to maintain optimal flavors and aromas. The end result is a whiskey that's deep and complex with a floral upfront, nutty backdrop and decadent, buttery notes of toasted marshmallow, maple and nutmeg, balanced with a lingering spicy finish.
Flavor Profile
Nose: Floral upfront with a lovely nutty, woody back drop. Evokes deep fruit notes of dried mango, bergamot orange, and honey baked apples.
Palate: Round, rich and soft with decadent nutty and buttery notes that envelop the palate. Supporting notes of toasted marshmallow, maple, and nutmeg, balanced with Redemption Rye's signature undertones of fennel and caraway.
Finish: A lingering, balanced finish that coats the palate. Spice fades into a hint of sweetness with warming flavors of­ pie crust, sweet pine, buttered popcorn, vanilla and dried fig.
What Gary Says
Nose:  Woodsy rye spice, dill, mint, lemon (leaning towards grapefruit) zest, orange blossom honey with apples.
Palate:  Round mouthfeel, nutty with vanilla, orange, apple, mint, nutmeg, savory spice notes with an earthy hint of mushroom and cocoa.
Finish:  Moderately long with fruity spice and vanilla.
Comments:  Definitely a unique addition to the Redemption rye family (and rye whiskey in general). This whiskey delivers on what I look for in a high-rye rye whiskey (not to be confused with a 'barely-legal' rye whiskey) with the fruit notes and dill, but there is an earthy nuttiness to this that really stands out. This isn't earthy like a peaty scotch; it is a much more subtle play that still showcases the rye whiskey, but adds a lovely new dimension. The packaging isn't my favorite – the glass bottle is slightly frosted and fades to black, giving it a more cloudy/dark appearance than the whiskey itself. I prefer just clean/clear glass; the whiskey is delicious on its own, but not a fan when the packaging makes it look "different" than it does in my glass. Also prefer an artificial bottle stopper over cork, which can deteriorate. But those critiques wouldn't discourage me from buying a bottle – because I mainly buy for what's on the inside. This is one of my favorites that I've tried from Redemption. Hoping we maybe see a barrel proof release in the future!
Rating: Stands Out/Must Try