The Glenrothes Select Reserve Speyside Single Malt Scotch Whisky
40% ABV
$45
Website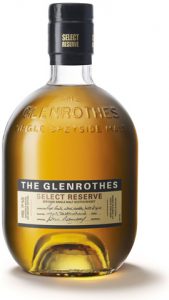 What the Distillery Says
John Ramsay, our Malt Master, has crafted a selection of The Glenrothes which typifies the distillery house character – ripe fruits, citrus, vanilla and hints of spice.
The Select Reserve is a first for us. A non-Vintage-specific selection carefully chosen by John and produced to the same high quality standards as The Glenrothes Vintage selections; only here we select and vat from casks from different years.
Appearance: Pale golden
Bouquet: American oak, vanilla and coconut, hint of plums/p>
Palate: Full malty flavour, medium sweet, vanilla and orange zest
Finish: Long and slightly spicy
Produced to the same exacting quality standards as the Vintages, Select Reserve is a vatting of casks distilled in different years.
It has been crafted to typify all that is The Glenrothes in its early prime. What we call the 'House Style'. Laden with ripe fruits, citrus, vanilla and hints of spice, the Select Reserve is the essence, the very heart of The Glenrothes range in terms of taste and flavour. From this expression all other Vintages are born.
What Richard Says
Nose: Light vanilla and malty oak.
Palate: A lovely, silky sweetness of orange blossom honey and dried fruit.
Finish: Lingering with doses of black pepper and more malty oak.
Comments: This introduction to Glenrothes in their "house style" focuses around cereal grains and vanilla/fruit sweetness. Not a game changer by any means but it's pleasant, easy to drink and won't break the bank. If you want to mix up your malt rotation then give it a try.
Rating: Stands Out