Old Rip Van Winkle Handmade Kentucky Straight Bourbon Whiskey Aged 15 Years
No. L7789
53.5% ABV
$43 originally (HIGHLY collectible now)
Website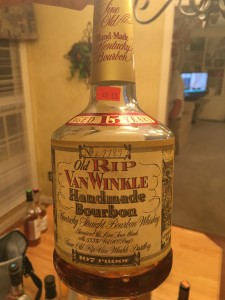 What the Bottler Says:
15 Year, 107 Proof A younger version of our famous 20-year-old Pappy Van Winkle' Family Reserve, this bourbon was crafted according to our exclusive family wheated recipe. The smooth, oak flavor blends well with the barrel proof. Selected from barrels in the heart of our Kentucky warehouse, it has remained untouched for 15 years and unhurried by time.
What Richard Says:
Nose: As amazing of a bourbon as this is it is fickle on the nose. The nose is surprisingly delicate and the 107 proof can be overpowering. With a fair bit of air you get more notes of burnt caramel, vanilla cream filling for Boston Cream Pie, and polished leather.
Palate: Phenomenal! Dried peaches, cinnamon red hots, vanilla extract, dark cocoa powder, and aged tobacco.
Finish: A tad hot on the end.
Comments: Yes, I know. "Why are you reviewing whiskeys that are basically unobtainium, jackass?" Well, it's not often you come across lauded whiskey like this. The last time I had a bottle was so long ago that I'm not sure I was even sufficiently experienced to fully appreciate it, which was shortly before they switched to the newer tall bottle and donned it with the "Pappy" moniker. So how does this old Stitzel-Weller juice stack up? It's really damn good. Really, really good. Is it the best bourbon I've ever had? No but that's a preference thing more than a comment on the passion for this whiskey. The whiskey is surprisingly delicate against the proof but exceptionally flavorful. A splash of water helps it open up a bit. In a heavier bourbon like a George Stagg or Four Roses the alcohol drinks much easier. In this bourbon it is a bit of a hindrance. If you are fortunate enough to come across this don't be afraid of the water.
Rating: Must Buy (at sane prices)