Yellow Spot Single Pot Still Irish Whiskey Aged 12 Years
46% ABV
$99
Website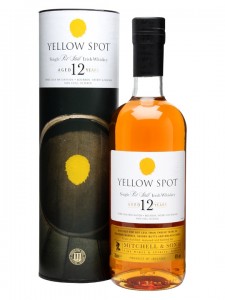 What the Distillery Says:
Yellow Spot whiskey was last seen in Ireland in the mid to late 1960's. Created and sold by Mitchell & Son Wine and Spirit Merchants, Yellow Spot was always a 12 year old whiskey which was slightly sweet due to the inclusion of some single pot still spirit which was matured in Spanish Malaga wine casks. Inspired by the original, Yellow Spot is the rare taste of a bonder's style Pot Still Irish whiskey. Maturation in Bourbon barrels, Sherry butts and Malaga casks creates a superbly complex whiskey with fresh and sweet top notes.
Nose: Mown hay & cracked black pepper, Red bell peppers, nutmeg, clove oil & green tea. Sweet honey & peaches from the Malaga casks.
Taste: Honey sweetness with pot still spices. Flavours of fresh coffee, creamy milk chocolate & Creme Brulee. Notes of red apples & toasted oak.
Finish: Sophisticated & complex. Sweetness throughout, with a mix of red grape & dry barley upon exit.
What Richard Says:
Nose: Tobacco, candied ginger, eggnog, and vanilla drizzled peaches and cream.
Palate: Rich orange blossom honey, Del Monte fruit cocktail, and melted milk chocolate.
Finish: Sweet fruit playing against spicy black pepper.
Comments: Fantastic. Absolutely stellar. Easily my favorite 12 year old pot still Irish whiskey at drinking proof. (Redbreast Cask Strength still does it for me at the higher proof). The Sherry, Bourbon, and Malaga wood fit together seamlessly. For sure, this is an Irish Whiskey all should try. If it wasn't so damn expensive I would be yelling in your ear that you have to get out there and buy a bottle.
Rating: Must Try