Crown Royal Norther Harvest Rye
90% Rye Whisky
Fine Blended Canadian Whisky
45% ABV
$25 to $35
Website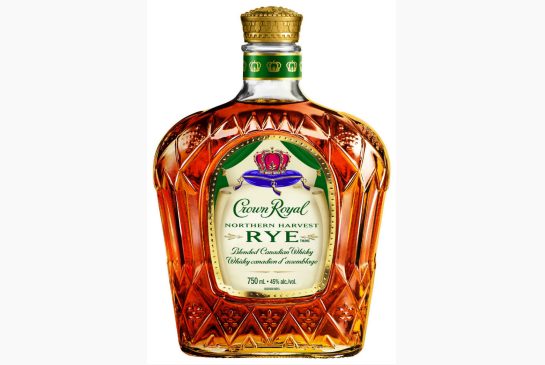 What the Distillery Says:
Crown Royal Northern Harvest Rye was first released in the U.S. in early 2015. The variant showcases the distinctly Canadian rye whiskey featured in the traditional Crown Royal Deluxe Blend that consumers have grown to love throughout the last 75-plus years. The latest variant to be introduced by Crown Royal, Northern Harvest Rye (90 proof, 45% ABV) is the brand's first ever blended, 90% rye whisky and embodies a smooth and spicy flavor profile that can be mixed into traditional rye cocktails or enjoyed neat or on the rocks.
NOSE: Baking spices, cereal, light wood spices
PALATE: Gentle oak note, rich butterscotch, spiced vanilla, develops into soft peppery notes
FINISH: Smooth and creamy
What Gary Says:
Nose: Sweet & mellow spearmint with kiwi; rye bread with pickles; subtle baking spices.
Palate: Soft mouthfeel, sweet malt w/ vanilla & fruit salad that builds to some spice notes.
Finish: Short, with pepper spice notes perking up a bit.
Comments: This tastes more mellow than I expected for 90 proof. Nice character, although different from its southern rye cousins (more like a very gentle rye). I'm not a huge Crown Royal fan these days (just too sweet for my preference), but I enjoy this quite a bit more. Do I understand why it was selected by Jim Murray as World Whisky of the Year? Nope (and believe me – I really, really wanted to fall head over heels in love with this whiskey; but I thought Crown's single barrel offering last year was far more interesting).
Rating: Stands Out
What Richard Says:
Nose: Minty, with heavy doses of tropical fruit and cloves.
Palate: Delightfully mellow and vanilla fruity sweet. This isn't the least bit cloying but rather a nicely balanced fruity sweetness that fans of slightly overripe fruits and light fruit tarts would enjoy.
Finish: As mellow and soothing as this is you get a bit of a kick on the way out. The finish is dry, woody, and a little spicy.
Comments: This U.S. only release has apparently taken the world by storm because one guy who rewrites one book annually said in his sole opinion that this is buckets of awesome sauce. Is it? No. Hell no. I really don't get the hullabaloo. I realize we are "proselytizing" here at Whisk(e)y Apostle but that's more whiskey in general. Rare is the dram that I feel like running out and telling everyone that they need to get a piece of it. All that aside, this is a very nice whiskey. I really REALLY don't like regular Crown Royal. But the last two (non flavored crap) things to come out of the brand have really impressed me. I agree with Gary that the Single Barrel Coffey still rye is much better but this is no slouch. It is a really easy to drink and easy to enjoy whiskey that will play well in multiple situations. I have no problem recommended this as a stand out Canadian whiskey. And for me and Crown that really is saying something.
Rating: Stands Out
We would like to thank Crown Royal's representatives for sending over a sample for us to review.