The Singleton Single Malt Scotch Whisky of Glendullan
Matured for Twelve Years
40% ABV
$40 to $50
Website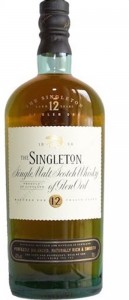 What the Distiller Says:
The youngest of The Singleton distilleries by a year, Glendullan brings a light, delicate, greenwood flavour to the family of three. This is the gift of the American oak casks, the insides of which the liquid caresses to yield a whisky with the subtle softness of fresh orchard fruits.
Built in 1897, the last of seven distilleries founded in Dufftown, Glendullan was the brainchild of blenders from Aberdeen by the name of William Williams and sons. With solid business acumen and a private railway siding, the Williams gave Glendullan a healthy start in life. So solid in fact that it took the barley shortages of the Second World War to halt production – though the momentous world event caused only a seven year blip in the history of this exceptional malt.
American Oak brings subtle, honeyed hints to The Singleton of Glendlullan range, with a touch of European Oak offering a balancing dryness. It's this combination that rounds off the edges and enhances the sweet vanilla and orchard fruit flavours.
Notes of apple and pear, chewy raisins and juicy red strawberry fruit, all perfectly balanced by a smooth, drying spiciness. A special selection of American and European Oak casks makes sure that those fruity, natural flavours stay in perfect balance throughout maturation.
What Richard Says:
Nose: Sherry and stewed fruits on the nose.
Palate: Sweet vanilla cream with more light fruity notes and a fair does of grainy maltiness.
Finish: Light, short, and pleasant.
Comments: Summed up in one phrase I would says a pleasant, easily drinkable daily dram. This isn't a knock your socks of scotch but it's not supposed to be. This is a Glenlivet or Glenfiddich 12 competitor in terms of flavor and price. It stands up admirably.
Rating: Average