Old Forester Birthday Bourbon
Distilled 2002, Bottled 2014
49% ABV
$60
Website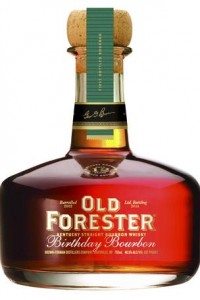 What the Distillery Says:
Handcrafted by renowned Master Distiller Chris Morris, Old Forester Birthday Bourbon is vintage-dated bourbon, hand-selected from one specific day of production. The result is a one of a kind character and flavor that will never be replicated.
Each year on September 2nd – in honor of our founder George Garvin Brown's birthday – Old Forester releases a limited-edition, 12-year old vintage-dated expression. Old Forester Birthday Bourbon has become a must-have for bourbon enthusiasts who want to experience the ultimate in rare handcrafted bourbon. Since its introduction in 2002, Old Forester Birthday Bourbon has received unprecedented acclaim, with an impressive collection of national and international whisky honors.
What Gary Says:
Nose: Furniture polish, oak, undertones of vanilla, with a hint of citrus; not as spicey as 2013, yet more acidic/sharp.
Palate: Nice mouthfeel, well balanced between sweet, spice, and wood.
Finish: Medium in length.
Comments: The nose was out of synch with the palate for me, as the nose said "Wow – think twice before consuming", while I did enjoy the palate. I've been disappointed with the steady price increases of this – not quite double what I paid for my first bottle in 2011, but getting close.
Rating: Average
What Richard Says:
Nose: This year's is a little hotter on the nose than recent releases. Heavier polished wood floors and burnt sugar.
Palate: It drinks a bit hotter too. Cinnamon red hots and pure vanilla extract jump out front before the hot pepper (both peppercorns and chilies) notes kick in with heavy handed oak.
Finish: Cocoa powder, wet pine needles, and wet split oak logs.
Comments: As nice as recent releases of this have been the 2014 is much heavier on the wood. And the damn price ticked up another five dollars. It's a stand out bourbon but for a better value and more balanced 12 year old I would probably grab a Elijah Craig or Ezra Brooks at 12 years for almost half the price. Hell, get one of each for the $60+ this will cost you.
Rating: Stands Out