Glendalough Double Barrel Irish Whiskey
42% ABV
$29.99
Website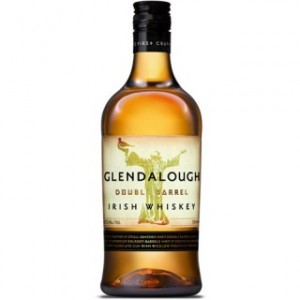 What the Distillery Says:
Glendalough Distillery, Ireland's first craft distiller, is leading an exciting Irish whiskey revival with the American release of its new Double Barrel Irish Whiskey. Available in leading bars and retailers in New York from February, this hand-crafted small batch spirit is a new caliber of Irish whiskey, boasting unique richness and complexity in a category dominated by mass production.
This truly new, unique style of Irish whiskey was born of a wild Irish streak, said Glendaloughs USA Brand Manager Donal Gallachoir. Like the fiercely independent, Irish monk, St. Kevin whose image graces every one of our bottles, we are carving our own way with the Double Barrel. This whiskey represents a distinguished sociability—it dares to stand out in a world of copycats and 'same old' styles."
Glendalough Double Barrel Irish Whiskey brings new life to a 19th century style of Irish whiskey that would be familiar to your grandaddy. Hand-distilled in a Coffey still from a mash bill of malted barley and corn, the whiskey gains its distinctive complexity from gentle, steady aging that is aided by the country's mild maritime climate. The double-aging process combines three years and six months in first-fill American oak bourbon barrels, then graduates to six months in first-fill Spanish Oloroso sherry casks. Before bottling, the cask-strength whiskey is cut with water sourced from the surrounding Wicklow Mountains.
The Bourbon barrels impart deep, robust chocolate and caramel notes, lightened on the palate with fruity, nutty notes from the Oloroso casks. The subtle nose is rich with the dark, fruity notes of Christmas pudding, and a sweet and creamy palate resounds richly with honeyed sweetness returning to dry fruit and a gingery, golden finish.
What Richard Says:
Nose: A light delicate floral note with a fresh grassy back.
Palate: Creamy and light. The flavor are delicate and fruity with a wisp of the sherry barrel influence.
Finish: Almost non-existent.
Comments: Light seems the best way to describe this whiskey. It's not harsh like an overly young whiskey but it is exceeding subtle and coy. Drinking it goes down almost like water.
Rating: Average
We would like to thank 451 Marketing for providing us with a sample for review.