Balblair Highland Single Malt Scotch Whiskey 1990 Vintage
46% ABV
$125
Website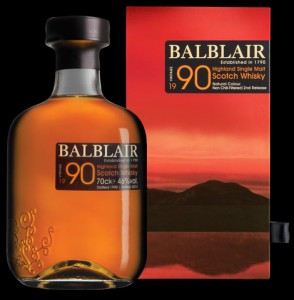 What the Distillery Says:
Matured in American oak ex-bourbon casks and Spanish oak ex-sherry butts Balblair Vintage 1990 2nd release is truly exceptional. Recently released to replace our award-winning 1989 Vintage, this incredible dram is sure to become a firm favourite amongst Balblair fans and whisky connoisseurs.
Tasting Notes
Appearance: The second release of Balblair 1990 is deep copper in appearance with hints of sparkling amber.
Aroma: The aroma is spicy yet sweet and is punctuated with notes of raisins, toffee and honey. Hints of vanilla, chocolate and citrus fruits are also present.
Palate: On the palate it is full bodied; sweet and spicy in character with hints of honey, raisins and zesty fruits.
Finish: The finish is smooth and long-lasting.
What Richard Says:
Nose: The sherry jumps forward on the nose with spice accented sweetness. I'm thinking a treacle tart with a sherry reduction drizzled on top.
Palate: This is a slower build than the 1999 but it's well worth the wait. It comes in muted but then swells with notes of creamed honey, buttered cinnamon raisin toast, citrus zest, and stewed fruit with a back note like biting into a black peppercorn.
Finish: Damn these older Balblairs have a finish that last for days. Cinnamon, ginger, and cocoa powder interplay well with the wood on the finish.
Comments: To be honest for a long time I had intentionally overlooked Balblair. My earliest encounters were under whelming. The newer young-ish iterations show a fruity brightness that is very easy to enjoy. These older Balbairs are spending a year or so in sherry casks as a finish and the marriage works out tremendously well. The 1999 was a joy to drink and this 1990 is like it's older more subtle and refined brother. Very delicious and at it's price point for a 21+ year old single malt this one is a must buy.
Rating: Must Buy
We would like to thank Lukasz with Alembic Communications for sending over the review sample.