William Larue Weller Kentucky Straight Bourbon Whiskey – 2014 Release
70.1% ABV
$85-90
Website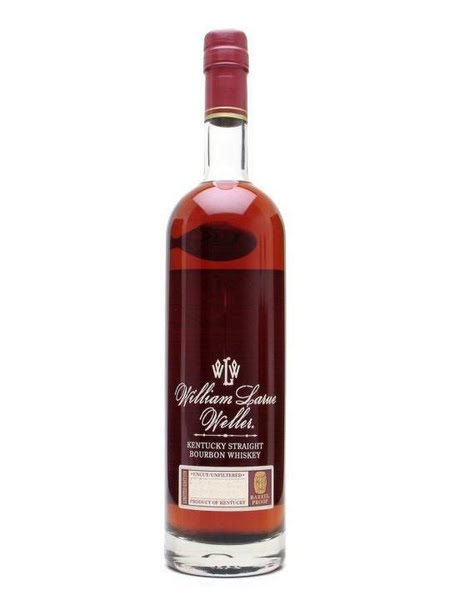 What the Distillery Says:
Uncut and unfiltered, this hand-bottled bourbon is barrel proof. Weller substitutes wheat for the traditional rye grain, a production method pioneered by W.L. Weller.
TASTING NOTES:
Fragrant scents of caramel corn, new leather, plums, light toffee and pipe tobacco. The palate tastes of marshmallow, salted almonds, nougat, figs and dates. This whiskey finishes smooth, composed and flavorfully sweet.
What Gary Says:
Nose: Cocoa, toffee, steamed condensed milk (thinking of Cuban coffee), vanilla, hint of clove and honey; warm, dark and rich. For the proof, there isn't as much alcohol burn as you might expect neat, but I recommend adding some water – which brings in new aromas of a comfortable leather chair (maybe in the waiting room of my favorite bakery?) The kind of whiskey I could nose for a long time – and love every minute of it.
Palate: Warm, chewy toffee sweetness; mincemeat pie with a dusting of hot chocolate instant powder (you know you've tried it without any water). Burnt toast and wood are balanced nicely with the sweetness.
Finish: Quite long, with a bit more spice and a bit of a bite at the end
Comments: I've always been a fan of this member of the Buffalo Trace Antique Collection, and this year is no exception. The proof is up there, so don't be shy with the water. I like to nose it neat and take my first sip neat, adding water from there, but with proof like this you can burn your palate if you're not careful – and I honestly find I enjoy it more with some water. The last several releases have been in the same age range, and while the proof has increased, Buffalo Trace picked the right barrels for the flavor profile. Fans of past William Larue Wellers shouldn't be disappointed. And if they are, please let me know and I'll try to help you dispose of the remainder of your bottle.
Rating: Must Buy
What Richard Says:
Nose: I really expected the nose on this to be rocket fuel out of the bottle but there is a lot of nice leather and caramel notes coming across even before you add water. Water opens up a big burst of cinnamon and honey drizzled over fresh baked cornbread.
Palate: Damn that's rich! I didn't even bother with a "before adding water sip" given the proof this is clocking in at. It's really delicious. Dark fruit, toffee, and more cinnamon prevail.
Finish: A nice slow long woody spice with a dusting of cocoa powder. Very dry. Maybe a little too dry?
Comments: How the Pappy fanatics aren't just as rabid about this I'll never know. It is a standard bearer for barrel proof wheater bourbons. It's absolutely delicious. My only complaint is that this year's release seems a little too dry on the finish, but hey that just makes you want to drink more right?


Rating: Must Buy