Ballantine's Very Old Blended Scotch Whisky Aged 30 Years
43% ABV
$350
Website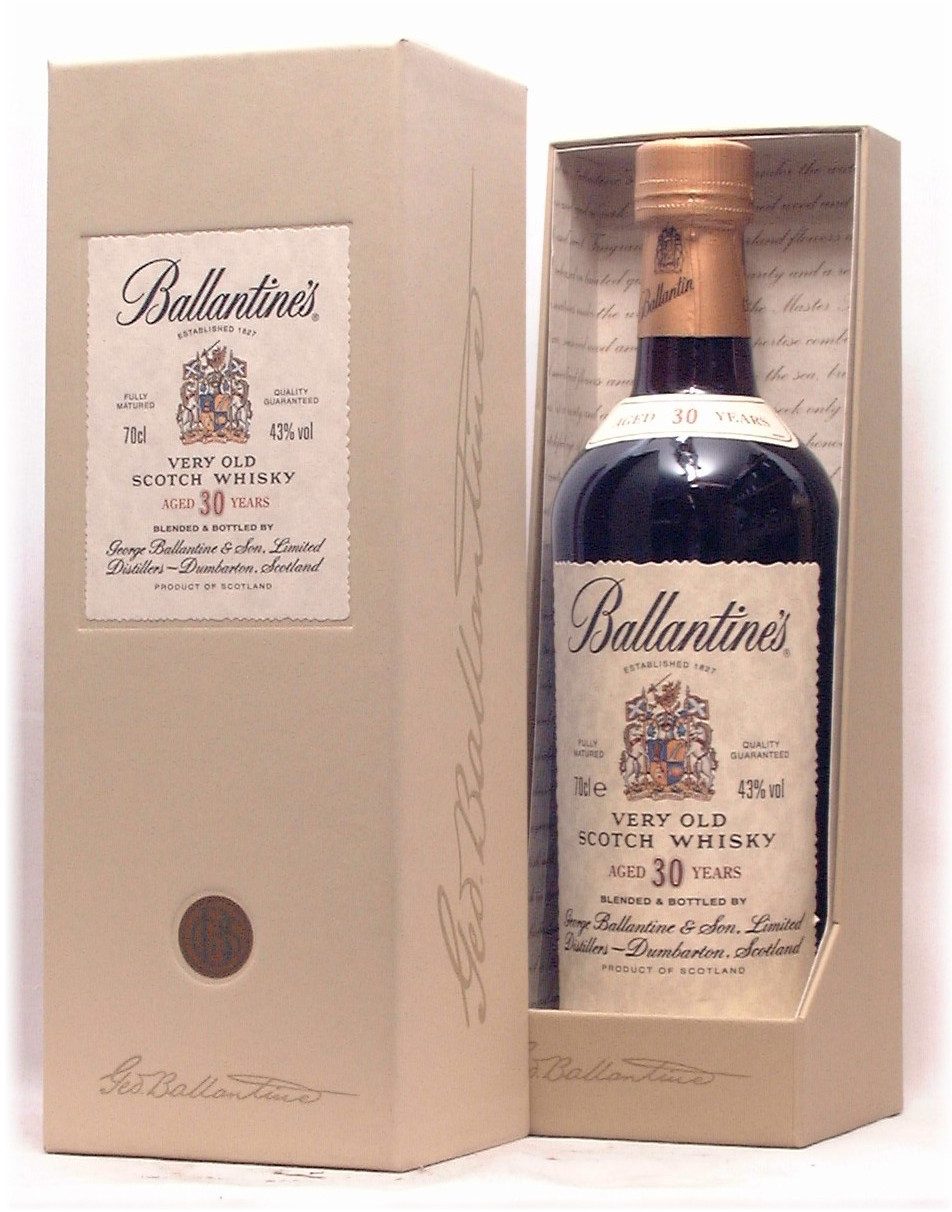 What the Blender Says:
Rich, Oak-Influenced & Lingering. Ballantine's 30 Year Old ranks as one of the world's most exquisite blends.
With a deep gold colour, subtle sweet flavour on the nose and a complex palate of honey and vanilla, Ballantine's 30 Year Old is an exceptional, rare and exclusive whisky.
Nose: Deep, soft fruity aromas and an elegant subtle sweetness with a luscious vanilla oakiness.
Taste: A full, rich complex balance of honey, floral and fruity flavours, with mellow notes of vanilla.
Body: Soft yet strong, confident and luscious.
Character: Full, balanced, rich and fruity.
Colour: Deep old gold.
Finish: Long-lasting and elegant.
What Richard Says:
Nose: Hello old scotch. There's just a nose to old scotch that makes it stands out. Deep, a little sherry sweetness, a nice pipe tobacco/oiled leather interplay, and some old polish wood.
Palate: Smooth, balanced, creamy but not overly viscous, and rich. A little cigar smoke, nice oak notes, and deep sweetness.
Finish: Long and surprisingly fruity. There's a little dry oak around the edges but the fruit prevails.
Comments: This is a very complex and well layered blend. When it comes to high end blends if you're in the market for a bottle then you probably don't need my opinion. Even still, if you see a bottle at a bar then give a go. It's a pleasure to experience.
On a side note, I give HUGE props to Ballantine's for the bottle closure. No f-cking cork! It's a solid, well made, water tight screw cap. Other whisky maker please take note!
Rating: Must Try