Old Pulteney Clipper Single Malt Scotch Whisky
46% ABV
$50
Website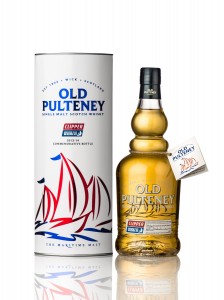 What the Distillery Says:
The Limited Edition Old Pulteney Clipper Commemorative bottle launched in July 2014. Only 2,700 cases of 6 available world-wide. Matured in ex bourbon and ex sherry casks.
Colour: Polished gold
Nose: Sweetness of dried fruits and crispiness of green apples is accompanied by notes of fresh vanilla and white chocolate.
Palate: Waves of honey and orange zest, a rounded oaky structure and an unmistakable coastal note which sets Old Pulteney apart. Smooth and long-lasting.
What Richard Says:
Nose: Meaty with a wisp of sea air. Deeper exploration brings up oatmeal crisp cookies and citrus zest.
Palate: More cinnamon oatmeal cookies eaten by the shore while the salty sea air washed over you. It's a nice rich flavor in the mouth.
Finish: A lovely note of brown sugar cookies fading to slow oak and intense malty and salty notes.
Comments: I've been a bit dubious on not age statement (NAS) single malts lately. My forthcoming Dark Origins review will not be kind. But this isn't bad at all. It's a nice malt that ventures out a little but doesn't lose a solid core. The cookie notes are very nice but it tends to be overly malty and salty. I don't think I would buy a bottle but it's worth a try in bar.
Rating: Average
We would like to thank The Thomas Collective and International Beverage for sending us a sample for review.