Old Pulteney Single Malt Scotch Whisky Aged 35 Years
42.5% ABV
$740
Website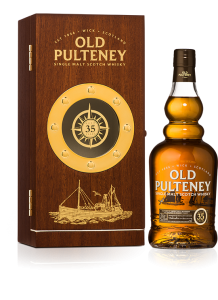 What the Distillery Says:
The embodiment of our Distillery's exceptional craftsmanship, this new expression is matured in American ex-bourbon and Spanish ex-sherry casks which have been expertly hand selected by our Distillery Manager, Malcolm Waring. The eye catching detail and design of the limited edition reflects our rich maritime heritage, which includes a stunning wooden box with porthole revealing the unique Old Pulteney bottle which carries the classic herring drifter, which has become a symbol of the brand.
Colour: Light amber
Nose: The initial wave of honey sweetness, exotic spices and citrus is followed by fruit cake and bitter chocolate. Over time gentle undertones open up with hints of fresh vanilla and sticky toffee pudding. A truly indulgent whisky on the nose enriched and fabulously balanced by the long maturation.
Palate: Full bodied and bursting with attitude. This exceptional dram is sweet and spicy and quickly develops a range of signature Old Pulteney flavours from honey, rum soaked raisins and Californian oranges to the heavier notes of seasoned leather, pralines and a touch of the salty North Sea air. A slow long finish with gentle waves of dried fruit and silky tannins.
What Richard Says:
Nose: Lovely "old scotch" nose of rich oiled leather, fine pipe tobacco, cinnamon candies, and dried apricots.
Palate: Viscous but not chewy. Candied nuts, baking spices, and salted caramels. It's a bit odd on the palate because it doesn't stick around. It hits and then is gone. It's a short palate even when left in the mouth for a bit.
Finish: Licorice, cigar tobacco, a light saltiness, and a little wood but less than expected. The finish is relatively short too.
Comments: This is an exceptionally delicious dram. I don't often get the chance to drink 35 year old scotch but the taste for it is acquired with dangerous speed. The Old Pulteney DNA gets a little muddled after so many years but hints of the sea air are transformed into salted caramels on the palate and a dusting of salt on the finish. Really, my only complaint is the brevity of the palate and finish on this terrific dram. It's too rare and expensive to keep downing drams to hold onto the flavor. I wish it lingered a bit more.
Rating: Must Try
We would like to thank The Thomas Collective and International Beverage for sending us a sample for review.