George T. Stagg Kentucky Straight Bourbon Whiskey
2013 Release
64.1% ABV
$70 to $90
Website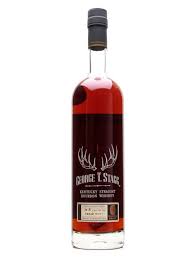 What the Distillery Says:
This extremely hearty whiskey ages in new charred oak barrels for no less than 15 years. Straight out of the barrel, uncut and unfiltered, the taste is powerful, flavorful and intense. Open it up with a few drops of water, sit back and ponder the wonders of the universe.
TASTING NOTES:
Lush toffee sweetness and dark chocolate with hints of vanilla, fudge, nougat and molasses. Underlying notes of dates, tobacco, dark berries, spearmint and a hint of coffee round out the palate.
What Richard Says:
Nose: Oiled riding leather, roasted dates wrapped in smoked bacon and Boston Cream Pie.
Palate: Molasses syrup, heavy vanilla, 5th Avenue candy bars, and finished with a spicy rye/mint kick at the end.
Finish: Old leather bound books, a well tended humidor, and well balanced oak.
Comments: This is one of those really dangerous bottles of Stagg. It's a good bit lower in proof from some of the previous releases and that makes it wicked easy to drink. Take it slow, add a little water or at least a water back, and be careful with this sleeping beast. This batch was aged for 15 years and 11 months. No details in this recent release regarding batch size or the warehouse location of the selected barrels.
Rating: Must Buy