Elijah Craig Single Barrel Kentucky Straight Bourbon Whiskey Aged 20 Years
Barrel No. 8, Barreled on 3-15-91
45%
$130
Website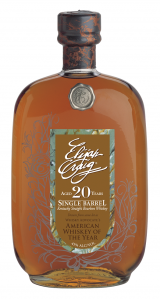 What the Distillery Says:
It was fall 2011 when Heaven Hill decided to honor the 20th anniversary of the Kentucky Bourbon Festival with a special, one barrel bottling of the Elijah Craig 20-Year-Old Single Barrel. This barrel would soon define award-winning bourbon. Whisky Advocate Magazine named this single barrel "American Whiskey of the Year". Editor and Publisher John Hansell called the award-winning bourbon, "seamless, richly textured and impeccably balanced." Only a handful of barrels have been allowed to age this long. Heaven Hill is proud to offer this unique bourbon that was pulled from the same lot as the award-winning barrel in limited quantties. Raise your glass to excellence.
What Richard Says:
Nose: Vanilla, tobacco, a little anisette, and old polished wood furniture.
Palate: Creme brulee, orange blossom honey, vanilla extract, hazelnut truffles, and maple syrup.
Finish: A mix of black and white pepper, pipe tobacco, cinnamon, and a slow oak denouement.
Comments: I keep thinking of Lucky Charms breakfast cereal. Not because this tastes anything like that. Rather, "it's magically delicious". 🙂 This is really, REALLY good. These have been out a couple of years so you'll be hard pressed to find one now but grab it if you do. The house of Heaven Hill is kicking Buffalo Trace in the teeth in terms of great old whiskey with this one. A really amazing bourbon.
Rating: Must Buy