The Balvenie Signature Single Malt Scotch Whisky Aged Twelve Years
40% ABV
Discontinued
Website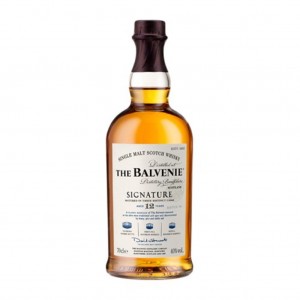 What the Distiller Says:
The Balvenie Signature Aged 12 Years is a classic marriage of The Balvenie matured in the three most traditional cask types, first fill bourbon, refill bourbon and sherry. Produced in small, numbered batches, each cask used is hand selected by Malt Master David Stewart to ensure he achieves the expression's unique character of honey, spice and subtle oak. David Stewart crafted The Balvenie Signature to mark his 45th year in the whisky industry.
TASTING NOTES
NOSE Rich and complex with honey, citris fruits and vanilla oak notes
TASTE Rich and honeyed with a hint of sherry fruitiness. A spiciness of cinnamon and nutmeg and a subtle oakiness develop with time.
FINISH Warm and lingering.
What Richard Says:
Nose: Sherry and a slightly soured cream.
Palate: Lighter more delicate expression of Balvenie. Light honey sweetness, malty, with heavy cereal notes, and mild play between white pepper and oak.
Finish: Crisp, dry, oaky in a raw, chewed toothpick kind of way.
Comments: This isn't going to rock your world or anything but it's a fine introductory malt.
Rating: Average