Asyla Blended Scotch Whisky
40% ABV
$50
Website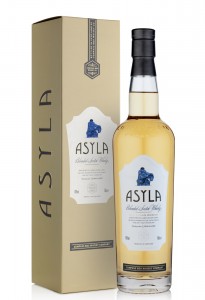 What the Blender Says:
The ultimate "everyday," "before dinner" or "Sunday afternoon" Scotch whisky. With just a splash of chilled water, this blend of soft, sweet grain whiskies and elegant, refined malt whiskies epitomises "deliciousness" in the world of Scotch whisky.
The Secret is in the Oak
The secret to making Asyla is the quality of the casks. We use only whiskies aged in first-fill American oak casks because these yield whiskies with more vanilla character, more richness and more sweetness than refill casks. Asyla is made with 50% malt whisky. There are few blended Scotches that use as high a malt content as we do at Compass Box. The result is a carefully crafted, elegant blended Scotch whisky that makes the perfect aperitif.
Flavour Descriptors
Sweet, delicate and very smooth on the palate, with flavours of vanilla-cream, cereals and a subtle applelike fruit character.
Recommendations
Ideal as an aperitif served in a white wine or similar glass with chilled water to taste. Try before a meal with shavings of Parmigiano Reggiano.
Distillery Sourcing
Single malts from the towns of Alness and Longmorn; single grain whisky from Fife.
Composition
A. 50% Lowland (East) Single Grain Fruitiness
B. 40% Highland Single Malt Perfumed
C. 10% Speyside Single Malt Fruitiness
Wood
100% first-fill American oak ex-Bourbon. Vanilla
Bottling Details
Bottled at 40%. Not chill filtered. Natural colour.
What Richard Says:
Nose: The nose is light and delicate with wisps of heather, honeysuckle, and turned apples. It reminds me of some of the mid-20th century perfumes and lotions my grandmother used.
Palate: The mouth feel is lovely, creamy and inviting. Creme brulee and fresh hay.
Finish: This whisky leaves like a long slow goodnight kiss after a date. Soft at first and then pushes in a little harder with wood, pepper, and alcohol before slowly pushing away.
Comments: Gosh, I think I have a crush on this pretty lady. This is a lovely and delicate whisky. It is easy to approach and even easier to enjoy. One word of caution though, to the peat freaks and those always looking to push the limits of robust flavor, this is probably not the dram for you.
Rating: Must Try