Knob Creek Small Batch Rye Whiskey
50% ABV
$40
Website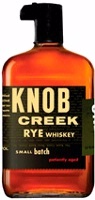 What the Distillery Says:
Made with a blend of the finest quality rye to create an extraordinarily smooth yet spicy finish.
Color
Shades of gold to light amber.
Taste
Bold rye spiciness with undertones of vanilla and oak.
Aroma
Expansive notes of herbs and rye with nuances of oak.
Finish
Warm and smooth with spice throughout.
What Richard Says:
Nose: Rye spice, lightly minty, herbal notes reminding me of herb liqueurs like herbsaint, and a little cinnamon.
Palate: Creamy and bitter…an odd combination. This isn't a minty lightly sweet right. This is spicy.
Finish: Black pepper, bitter wood, and very dry.
Comments: Beam Global really wants you to pay $40+ for one of their ryes. They first tried it with Ri(1) a few years back and no one wanted to pay that much for Jim Beam Rye in a sexy bottle (same recipe as Beam only makes one rye whiskey recipe). Now they want to leverage their successful Knob Creek brand and get you to pay that much for a NAS (no age statement) rye at 100 proof just because it has the Knob Creek name on it. Well, it's $10 more than 9 year old Knob Creek bourbon so I'll say no thanks. Don't get me wrong, this isn't a bad rye. It's just nothing special and in my mind you can do a lot better for a lot less coin.
Rating: Average