Midleton Barry Crockett Legacy Single Pot Still Irish Whiskey
46% ABV
$250
Website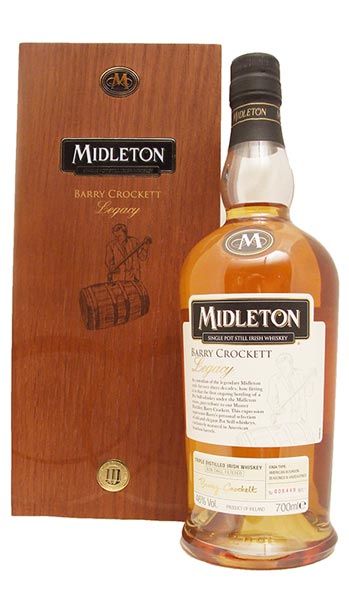 What the Distillery Says:
This whiskey represents Barry Crockett's personal selection of fine and elegant whiskeys which have been distilled and laid down over the past 24 years.
The appellation Midleton is only bestowed on the finest distillates originating from this wonderfully divers distillery complex. The rare and exclusive bottlings carrying the Midleton name are much sought after and have become the coveted possessions of whiskey enthusiasts the world over.
Nose: Elegant aroma of vanilla and toasted oak complimented by a touch of lime, succulent green berries, pears and green sweet pepper
Taste: Light pepper carries on to fresh citrus, limes and mandarin orange sweetness. A hint of cinnamon with vanilla and oak reveals its years spent in American oak.
Finish: The full spectrum of flavours last well into the finish, slowly fading to expose the clean American oak foundation.
What Richard Says:
Nose: Regardless of the iteration there is that distinctive Midleton/Irish Distillers pot still character on the nose. Fresh cut grass, orange blossoms, and lemon zest.
Palate: Vanilla, caramel, fine oak, with hints of the citrus from the nose. This is rich thick and creamy. Mouth coating and delicious.
Finish: Lightly peppered and woody. Not over oaked, just a long slow wooded finish.
Comments: Damn amazing! If you're going to spend $250+ on a bottle of Irish I'd go this way over the Jameson Rarest Vintage by a hair. The dram just grabs you and encapsulates you. Truely stunning. A benchmark in aged single pot still Irish.
Rating: Must Try