Four Roses Limited Edition Small Batch 2012 Release Barrel Strength Kentucky Straight Bourbon Whiskey
Bottle 4015 0f 4062
55.7% ABV
$90
Website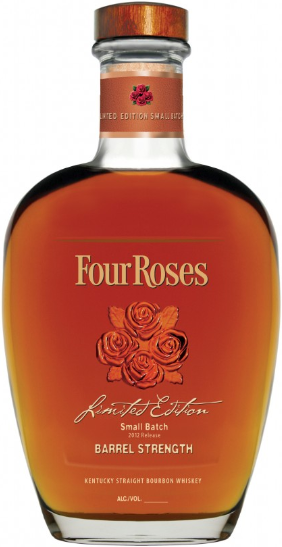 What the Distillery Says:
Our Master Distiller has hand selected four remarkable Bourbons from our 10 distinct Bourbon recipes to become our Four Roses Limited Edition Small Batch for 2012. The four Bourbons, perfectly aged between 11 and 17 years have been artfully mingled at barrel strength to create mellow flavors of orange peel and ripe red raspberries that melt into balanced tones of dark chocolate and caramel custard. These four Bourbons are married into one of the most alluring spirits we've ever made. Available September 2012.
Tasting Notes
Nose: Creamy vanilla and citrus with hints of all spice, nutmeg and rich pipe tobacco.
Palate: Orange peel and ripe red raspberries, dark chocolate and caramel custard.
Finish: Mellow finish with wisps of soft cedar and vanilla.
Recipe
OBSV -17 years
OBSV – 11 years
OBSK – 12 years
OESK – 12 years
What Richard Says:
Nose: Big hits of vanilla and cinnamon with a citrus back. I'm thinking of snickerdoodles wrapped in Big Red chewing gum.
Palate: More citrus in the mouth followed by dark chocolate, caramel, and holiday spices. Rich and dangerously enjoyable. This was and is a great Christmas bourbon.
Finish: Long on oak and aged tobacco with early traces of more cinnamon and vanilla that quickly fades away.
Comments: Marvelous. This is an absolutely wonderful bourbon. It's aggressive and patient. Complex and it comes straight at you. If someone didn't love you enough to get you a bottle of this for Christmas then do yourself a favor and grab one straight away.
Rating: Must Buy
I'd like to thank Laura with The Baddish Group for providing me with a review bottle.