Pappy Van Winkle's Family Reserve Kentucky Straight Bourbon Whiskey, 20 Years
Fall 2011 Release
45.2% ABV/90.4 Proof
$100 to $130
Website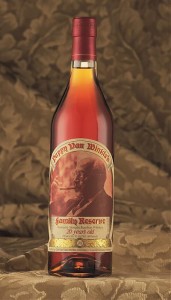 What the Distillery Says:
They really don't say much. Like most Buffalo Trace whiskeys they refer to review PR.
This is the #1 rated Bourbon Whiskey in the world—Rated 99 out of 100 by the World Spirits Championship. This bourbon is aged 20 years and bottled at 90.4 proof. This whiskey is wonderfully smooth and rich. No other bourbon today can stand 20 years of aging, but this bourbon does it with style. "Pappy" Van Winkle was a true character. This bourbon, like "Pappy", is full of character that makes it a very special whiskey. It has been put in the class of a fine after dinner cognac.
What Richard Says:
Nose: On the 20 year old I get a lot of nutty and leathery notes. It also shows some of the dark fruit I found on the ORVW 10/90 but missed in the 15 year old. The nose finishes out with something at reminds me of a mix of cloves and Aunt Jemima syrup.
Palate: Creamy and viscous in the mouth with lots of cinnamon and dark chocolate. Then there is a smack of vanilla so big it's like taking a little hit of vanilla extract.
Finish: The finish is surprisingly less oak than the finish of the 10 and 15 year olds. This one is a very refined older southern gentleman.
Comments: I miss being able to find this for $85 a bottle. Now you regularly see it for $125 to $130. Despite my previous rantings on the Van Winkle hype machine this is still a great bourbon and I'd happily pay $130 for it. Buy it if you can find it.
Rating: Must Buy