Four Roses Limited Edition Small Batch 2011 Release Barrel Strength Kentucky Straight Bourbon Whiskey
55.6% ABV/111.2 Proof
$70 to $80
Website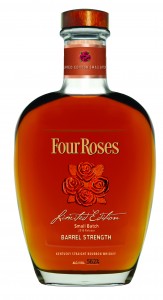 What the Distillery Says:
Four Roses Distillery is adding to its collection of limited edition small batch bourbon expressions this September which mingles four recipes – aged between 11 and 13 years – of the distillery's 10 unique recipes.
The release of the Four Roses 2011 Limited Edition Small Batch Bourbon will coincide with September's Kentucky Bourbon Heritage Month and will be officially introduced at the 2011 Kentucky Bourbon Festival. It will include four recipes hand-selected by Master Distiller Jim Rutledge. The bourbon utilizes Four Roses' recipes coded OBSK and OESQ, both aged 13 years, as well as recipes OESV aged 12 years and OESK aged 11 years.
The 2011 Limited Edition Small Batch Bourbon presents aromas of honeysuckle, toasted oak, almond toffee, and spicy hints of nutmeg and cinnamon, with subtle fruit flavors of dried apricot, ripe plum, plus brown sugar, honey and dark chocolate covered cherries.
"This year's limited small batch release is a classically refined bourbon that really showcases our ability to utilize the distillery's 10 distinct recipes," said Four Roses Master Distiller Jim Rutledge. "The combination of spicy, fruity and floral flavors make this a rich, mellow offering perfect for any occasion."
The distillery will produce approximately 3,500 bottles of the barrel strength, non-chill filtered bourbon to markets where
Four Roses is currently available in the U.S.
Four Roses' limited edition bourbon offerings have historically sold out quickly and been highly acclaimed by spirits critics. Last year's 2010 Limited Edition Small Batch Bourbon was rated third by Paul Pacult amongst the top 140 Five-Star Rated Spirits of the world in his renowned liquor industry publication The Spirit Journal.
What Richard Says:
Nose: Wow! The nose on this is amazing. It's rich and candy-like with notes of honey, caramel, vanilla, wildflowers, and cherries.
Palate: There's a smack of spicy rye on the palate. Water opens up notes of stone fruit, cinnamon, pumpkin pie spice, and chocolate.
Finish: Oak stands out on the finish. Even with a healthy dose of water the oak still stands strong. As it lingers, the finish develops a little nutty sweetness.
Comments: This is easily one of the top five annual releases I look forward to every year. It's interesting to see this limited edition series develop from it's Mariage origins to the mingling of four different recipes this year. The nose on this is just shy of heavenly. It doesn't quite stand up to the 2008 Mariage, which for me is the standard bearer for this series but that's only due to a little too much oak on the finish and a fickle palate. This really is an exceptional bourbon. I recommend trying this one.
Rating: Must Try
I'd like to thank Laura with The Baddish Group for providing me with a review sample. I usually buy a bottle of this every year but I was having some trouble procuring one this year. Maybe I should stop tell all of you how good this stuff is. 😉