The Dalmore 15 Years Old Single Highland Malt Scotch Whisky
40% ABV/80 Proof
$75 to $85
Widely Available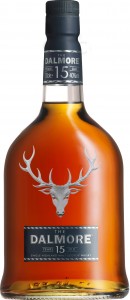 What the Distillery Says:
Delivering the perfect balance between spirit, wood and maturity, The Dalmore 15 Year Old is the mainstay of the Distillery's range of malts. It has been crafted from wood infused with three rare Sherries from worldrenowned Gonzalez-Byass—Apostoles, Amoroso and Matusalem—to achieve a deeply mellow whisky.
Color: Rich mahogany.
Nose: Intense and firm. Well structured with slightly sweet malt tones. The nose has great finesse, with fragrances of orange, marmalade and spice, and just a hint of Oloroso sherry in the background.
Taste: Good attack on the mouth; well balanced between elegance and muscle. Aging in Oloroso butts helps to soothe the heat of the spirit and brings a concentrated, citric mouth-feel to the forefront.
Finish: There is no mistaking the sherry wood finish of the malt, which closes with a medium-long, complex sweetness.
What Richard Says:
Nose: Classic Dalmore on the nose. Rich and savory with hints of oranges, clove, sherry and cinnamon bread (think Amish Friendship Bread).
Palate: Very hot on the mouth. Much more than you would expect from something in the 40% ABV weight class. Fruity and slightly spicy but the wood and sherry kick out at you fast and heavy.
Finish: Sherry, wood, ginger, and kind of a molasses cookie taste.
Comments: I can't say I love this one. I don't find the value in trading up from the Gran Reserva. I guess it's the palate. The nose and finish are very nice but the palate doesn't do it for me. And after all, don't we buy the stuff to drink it?
Rating: Average
What Matt Says:
Matt has not had a chance to review this whisky yet.
We would like to thank Laura with The Baddish Group for providing us with review samples.