Blade and Bow Kentucky Straight Bourbon Whiskey Aged 22 Years
46% ABV
$150
Website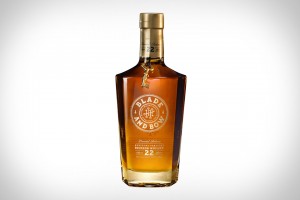 What the Bottler Says:
The award-winning Blade and Bow 22-Year-Old Kentucky Straight Bourbon Whiskey is a limited-release whiskey inspired by the passion and craftsmanship of the legendary Stitzel-Weller distillery.
Inclusive of whiskies distilled at both the distillery historically located at 17th and Breckinridge in Louisville, Ky. and the distillery historically located at 1001 Wilkinson Blvd. in Frankfort, Ky., this limited release offering was most recently aged and bottled at Stitzel-Weller.
Smooth and smoky, this limited-release bourbon's taste is accented with notes of torched sugar and apples baked in honey and spices. Its aroma is one of toasted oak mixed with vanilla bean, fig and just a touch of caramel.
Blade and Bow 22-Year-Old Kentucky Straight Bourbon Whiskey was named the "Best Straight Bourbon" and received the DOUBLE GOLD MEDAL at the 2015 San Francisco World Spirits Competition.
Collect the five distinct keys – some rarer than others – that adorn every bottle.
What Gary Says:
Nose: Oaky – dominant sour wood, bit astringent, burnt toast, coffee grounds, cigar paper, subtle vanilla & cocoa.
Palate: Thin mouthfeel, heavy wood with a sharp bite of pepper spice, burnt caramel, crème brulee.
Finish: Surprisingly short and drying.
Comments: I'm not a fan of "oak bombs", and there is far too much oak in this for my taste. If you like a lot of oak, this might be more in your wheelhouse – although setting the oak aside, I didn't find anything exciting. Typically with age the mouthfeel and finish stand out – and for me both of these were uninspiring. As there isn't a lot of 22 yr old bourbon on the market, I can't say the price is out of line – but not something I'm searching out.
Rating: Probably Pass
What Richard Says:
Nose: An old men's study – polished oak, old leather, aged tobacco, as well as…Boston Cream pie.
Palate: I agree with Gary that the mouthfeel is a little thin but it tastes very nice with notes of vanilla cream, dark chocolate, caramel, black pepper, and very woody.
Finish: Drying and very woody. Heavy oak and light pepper.
Comments: I like a good woody old bourbon that also provides layers of flavor. I really enjoyed this bourbon. It's a bit pricey, mostly on the "Stitzel-Weller" name. That is just the warehouse though, not the bourbon. This is a blend of Buffalo Trace and Bernheim distillate. Both of which you can try in separate older Orphan Barrel bottlings. Even still, there is enjoyable substance here too. If you are a fan of older, oak forward bourbons then give this one a try. If you are a fan of a more youthful and vibrant bourbon then this may not be for you.
Rating: Stands Out
We would like to thank Diageo and their PR firm for sending us a sample for review.