Stiggins' Fancy Plantation Pineapple Original Dark Rum
40% ABV
$30
Website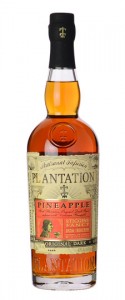 What the Blender Says:
Plantation Pineapple Rum – Stiggins's Fancy, created by company founder Alexandre Gabriel and cocktail historian David Wondrich, is inspired by several traditional recipes used in the 1800s. Gabriel infused ripe Queen Victoria pineapples in Plantation Original Dark Rum for three months, before adding the distillate of rum macerated sith the bare rind of the fruit. The resulting 40% abv rum is described as having notes of tropical fruit, smoke, citrus peel and clove.
"David and I did this project in part out of sheer curiosity," Gabriel said. "Mostly, however, we did it because the pineapple is the symbol of hospitality and also the symbol of the Tales of the Cocktail Apprentice program."
The new expression is also named after the Reverend Stiggins, a character in Charles Dickens' The Pickwick
Papers whose favoured tipple was pineapple rum. "Stiggins's Fancy is our liquid "thank you" to the Tales Apprentices who do so much for all of us. We hope you all
enjoy drinking it as much as we did making it.
"The 1824 Journal of Patent Inventions notes that it was customary in the West Indies to offer pineapple rum to
visiting European friends. Following the West Indian tradition, Plantation Pineapple Rum is our gift to you."
What Richard Says:
Nose: With a wisp of coconut this would smell like the finest pina colada in the world. Rich, bright, sugary rum interlaced with fresh cut pineapple…as you would expect, right?
Palate: Surprisingly, this is not cloyingly sweet at all. It is the most impressive pineapple infusion that I've ever tasted elegantly laid into the rum.
Finish: Dry and fleeting.
Comments: This rum is amazing. It is the most impressive flavor infused spirit (not just rum) that I've ever tried. By itself this is crazy good and enjoyable and in a cocktail it is damn near unmatched. Kudos!
Rating: Must Buy
We would like to thank Maison Ferrand for sending us a sample to review.