Wild Turkey Master's Keep Kentucky Straight Bourbon Whiskey Aged 17 Year
Batch 0001, Bottle No 17484
43.4% ABV
$150
Website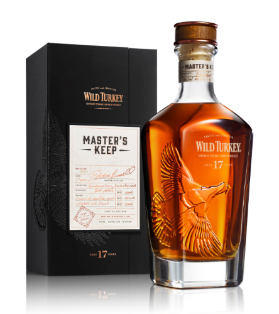 What the Distillery Says:
LAWRENCEBURG, KY (AUGUST 4, 2015) – They say the apple doesn't fall far from the tree, and never was this more the case than in the legendary Bourbon-making Kentucky clan – the Russells. Marking his first release since being appointed to Master Distiller in January 2015 alongside his father, Eddie Russell and his Wild Turkey family announce the release of Wild Turkey® Master's Keep. This limited edition, 17-year-old Bourbon heralds the next chapter of an extraordinary distilling family's history. After 34 years perfecting his trade, Eddie joined his father, Jimmy Russell, at the helm of Wild Turkey, making them the only father and son master distilling duo in the industry with an amazing 95 years of whiskey making experience.
The story of Master's Keep begins in 1997. Wild Turkey had a surplus of Bourbon and no warehouse space left, so Eddie needed a place to store and age the extra barrels. A friend at another distillery offered his empty stone warehouses, but Eddie knew these would age the Bourbon differently than the wooden warehouses at Wild Turkey. He decided to take a chance and experiment a little, and so the barrels spent several years in stone warehouses before eventually coming back to Wild Turkey's wooden ones. After 17 years and 200 miles, Eddie felt these traveling barrels had reached their peak flavor. It is fair to say that this Bourbon is a welcome innovation in long-aged whiskey. And, much to his surprise, when the barrels were dumped they were at a much lower proof than anticipated. Barreled at 107 proof, the whiskey was 89 proof when dumped and 86.8 proof (43.4% alc./vol.) when bottled – a result of the time these particular barrels spent aging in stone warehouses.
Master's Keep is the result of a lot of experimentation, patience and faith, said Eddie Russell. The sweet spot for Bourbon aging is usually between 8-12 years because older Bourbons tend to become too woody or spicy from sitting too long in the barrel. What I was able to do with Master's Keep was retain the Bourbon's rich caramel and vanilla flavors by aging the barrels in both stone and wood warehouses, sampling from them every few months to decide their next move."
Jimmy Russell added, "I tend to not like Bourbons aged longer than 12 or 13 years because they lose the caramel and vanilla flavors, but Eddie and I both agree thanks to the unique way this whiskey was aged we have something special here that we truly hope our Wild Turkey fans and Bourbon connoisseurs enjoy."
Master's Keep is delicate yet distinctly Wild Turkey. With a smooth and silky introduction that transforms into caramel and vanilla sweetness, and finishes with a satisfying burst of spiciness and oak, it is one of the finest sipping whiskies to ever come from the distillery. It is a golden hue, perhaps lighter than one might expect from a 17 year old whiskey. The color is attributed to the whiskey's time in the stone warehouses, where the liquid would have less interaction with the barrel's charred wood thanks to the cooler temperatures within.
Delivered in a distinguished bottle that reflects the craftsmanship and passion that went into the Bourbon itself, Master's Keep is made of the highest quality crystalline glass. The bottle's unparalleled clarity showcases the rich color of the liquid, while the intricately embossed work of art brings the iconic image of the wild turkey to life in a way that you can see and feel in exquisite detail. This latest limited-edition from the iconic Bourbon brand will be available nationally in small quantities starting in August 2015 for a suggested retail price of $150.
Tasting Notes:
Aroma: Fruity, smoky, oak, spice, vanilla
Taste: Creamy, citrus caramel candy, spicy, hints of smoky oak
Finish: Caramel, vanilla, woody, spice, very smooth
What Gary Says:
Nose: Soft wood, a rickhouse in the fall; anise is prominent but not overbearing, nice vanilla and baking spices with a hint of cinnamon.
Palate: Softer than a typical Wild Turkey bourbon (it isn't what I would call Wild Turkey "amplified"), sweet cornbread (but not "corn" as in young whiskey – no mistaking that!), light spice, candied almonds.
Finish: Moderately long and lingering.
Comments: As a 17 yr old bourbon, it is not nearly as oaky as I expected – either on the nose or the palate. Quite mild and gentle. I find Wild Turkey to typically be bolder, with more dominant rye spice – so this was a departure from that. I like it quite a bit, but the pricing (which I can't fault them for in this market) puts this as one I will admire from afar (but sample when offered someone else's!)
Rating: Stands Out
What Richard Says:
Nose: Rich and creamy, oozing with spicy oak, aged tobacco, and vanilla extract.
Palate: This has the best mouth feel of any sub 100 proof bourbon I've had. There is a clear oak and black pepper forward spice from the long years of aging but there is a nice rich sweetness like sweet corn pudding and burnt toffee.
Finish: This finishes a little hot with lots of oak and spice.
Comments: When I was at Wild Turkey in April picking a Georgia Bourbon Society barrel we spent a good bit of time with Eddie Russell. He gave us a heads up on this pending release and I've been looking forward to it ever since. The odd chemistry that led this to be such a low proof leaves it deceptively robust for an 86.6 proof bourbon. The price is pushing the boundaries of reasonable for me and I would say Must Try at $100 but coming it at $150 it's good but really more only for those with the financial means.
Rating: Stands Out
We would like to thank Campari and Edible PR for sending over a bottle for review.