Hedonism Quindecimus Blended Grain Whisky
Fifteenth Anniversary Limited Edition
46% ABV
$175 – $200
Website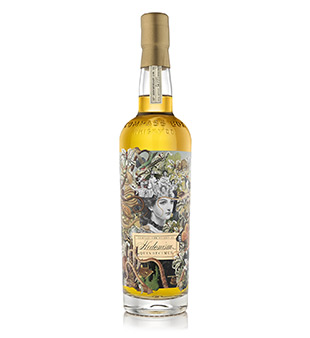 What the Blender Says:
'Everything in moderation, including moderation.' – Oscar Wilde
Since we launched the Compass Box Whisky Company in 2000, we have always believed there can be a certain elegance in excess. Our first bottling – the original Hedonism – explored a brave new world of flavor previously uncharted in the world of Scotch. Eight years later, with Hedonism Maximus we used exclusively older, rarer whiskies in pursuit of the indulgent, unctuous, august pleasure that we knew only mature stock could deliver.
In this our fifteenth anniversary year, we felt it was time to go back to where it all started for Compass Box and reinvent Hedonism once more for a very limited edition celebratory bottling.
Hedonism Quindecimus uses grain whiskies of varying ages from five distilleries to create a riotous, intergenerational celebration of all that the interplay between grain spirit and American oak can deliver. The joie de vivre of youth and complexity of age combine to create something seductive, mouth-coating and irresistible.
So join us in this, our fifteenth anniversary toast to all of you that have joined us on the journey since our first bottling. To fifteen years of joyful pleasure. To the thrill of exploration. And of course to the spirit of occasional, unabashed excess.
Availability
Fifteenth Anniversary Limited Edition release of 5,689 bottles.
Bottled in February 2015.
Flavour Descriptors
The combination of grain whiskies from different distilleries and of varying ages has created extraordinary complexity and juxtapositions of flavour. Indulgent yet lively, unctuous yet light, you will find a deep, sweet caramel coconut succulence combining with exultant tropical fruits.
Recommendations
Drink this whisky as any true Hedonist would – however you like it, whenever you feel like it and in whatever quantity you deem appropriate. We particularly enjoy Quindecimus paired with sweet desserts, salted caramel or Highland fudge.
What Richard Says:
Nose: Vanilla bean ice cream, honeysuckles, and fresh cut grass.
Palate: Light and creamy on the palate with a lovely crisp apple and fruit mix sweetness.  Floating in the back is this oddly coy hint of milk chocolate (somewhere near Cadbury or UK Kit Kat).
Finish: A slight white pepper kick followed by a slow fading oak.
Comments: This is another tremendous effort by John Glaser and Compass Box. Hedonism changed my religion on grain whiskey many years ago and I continue to enjoy it to this day. It's a delightful light dram that plays well in many occassions. This is a more refined specimin in the same vein. Grab a bottle if you are a Compass Box fan and you won't regret it. If you are new to grain and/or Compass Box $175 may be a bit of a hurdle for your first foray.
For those that want more specifics on the components of this one it would be:
17.6% North British 20 Year Old from first-fill American standard barrels
36.6% Port Dundas 25 Year Old from rejuventated hogsheads
8.4% Dumbarton 28 Year Old from American standard barrels
19.4% Port Dundas 20 Year Old from first-fill American standard barrels
18% 32 Year Old Loch Lomond provided "mystery" grain which was a previous grain blend aged in American standard barrels
Rating: Must Try