Evan Williams Kentucky Straight Bourbon Whiskey
Single Barrel Vintage 2005
Barrel No 455
Barreled 2-17-2005
Bottled 2-18-2015
43% ABV
$25
Website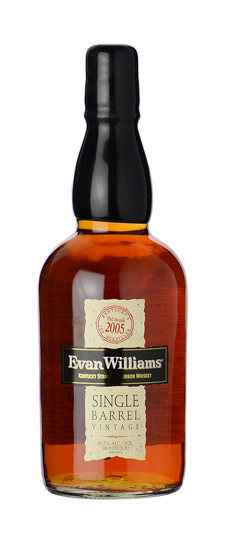 What the Distillery Says:
Evan Williams Single Barrel Vintage Bourbon is a five-time Whiskey of the Year award winner. Each year our Master Distillers Parker and Craig Beam select barrels that meet their exacting standards. It's a bourbon that is vintage dated, meaning each bottle is marked with the vintage date it was put into oak and the year it was bottled.
Single Barrel tasting notes
Color: Delicate amber gold
Nose: Dark caramel, sweet oak & charred wood
Taste: Lush & spicey; oak with honey, apple & orange notes
Finish: Long, graceful and relaxed
What Gary Says:
Nose: Sweet oak followed by caramel, with hints of clove; bread baking.
Palate: Smooth, honey, lovely clean/crisp sweetness, a hint of orange sherry with a bit of spice on the back-end. The mouthfeel is a bit thin, but not distractingly so.
Finish: Moderate in length with a pleasant.
Comments: Very "Heaven-Hill-esq", which is probably not helpful if you've not sampled a lot of whiskey from Heaven Hill.
Rating: Stands Out
What Richard Says:
Nose: Sweet, rich, and malty vanilla. Clove cigarettes, under cooked caramel, and chocolate orange candies.
Palate: Orange blossom honey with a slightly bland woodiness. It's very light and kind of thin.
Finish: Heavier on the black pepper spice and oak.
Comments: This is still a nice dram and at a great price point but it seems to be thinning out a bit more and more in recent vintages. This 2005 is probably my least favorite in last five years or so but it's still a stand out whiskey.
Rating: Stands Out