Smooth Ambler Old Scout Single Barrel 8 yr Rye; Barrel No 983 (Sherlocks selection)
61% ABV
$50
Website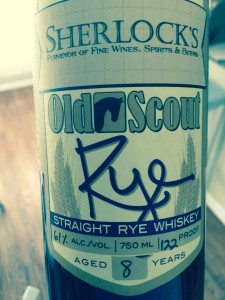 What the Bottler Says:
Old Scout Single Barrel Cask Strength Rye is a just what it says; a single barrel that has been bottled at cask strength, usually between 115 and 125 proof. We pick barrels that are different from our stock selection to create unique experiences with each purchase.
Tasting Notes: A touch of sweetness leads to big spice. A bit of menthol on the nose with hints of honey and brine. Heat related to the cask strength, but still easy to drink. Maybe a touch of water helps here for some.
Mashbill: 95% rye, 5% malt
Aging: A minimum of 7 years, non-chill filtered.
What Gary Says:
Nose: Hello alcohol, toasted orange zest, cinnamon; some water tamps down the heat and brings forth nutmeg and baking spices
Palate: Nice rich mouthfeel, heavy citrus notes with apricots and burnt sugar
Finish: Medium, peppery as it dries
Comments: Any single barrel offering like this has the potential to be anywhere from 'meh' to 'holy @#$%, make room in the bunker'. When I first tried this, I thought enough of it to buy another bottle right away (you know – before they run out!) The more I drink it, the less impressive I find it; although I don't regret the purchase one bit. 8 yr old barrel proof rye isn't likely to be found for less, and it is a nice whiskey. It just reminds me that I really should sample something on at least two or three different occasions for an opinion (where a first impression might be extreme on either end). This was the third Smooth Ambler Old Scout Single Barrel Proof Rye I've purchased, and I haven't been disappointed in any of them.
Rating: Stands Out
What Richard Says:
Nose: Holy rye minty alcohol Batman! It's not as harsh as you would expect over 60% ABV but a little water goes a long way. Churros sprinkled with cirtrus zest and fresh mint leaves.
Palate: Surprisingly easy to drink but a few splashes of water make it fantastic. More orange zest, fresh baked monkey bread, and great poached stone fruit flavor.
Finish: The finish is nice and subtle with just a bit of cinnamon and white pepper around the edges.
Comments: This is a really nice well rounded bottle of rye. Smooth Ambler does really nice things with MGP ryes in particular. At $50 for a bottle when comparables from Redemption and other bottlers of similar rye are moving closer to three digits makes this a value in the current market conditions. Rye fans should really like it. However, if rye whiskey isn't your bag then this isn't going to change your whiskey religion.
Rating: Stands Out