Balblair Highland Single Malt Scotch Whiskey 1983 Vintage
46% ABV
$285
Website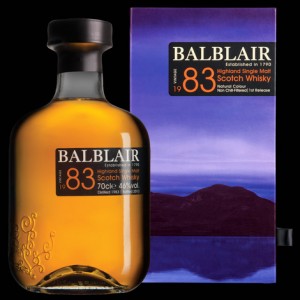 What the Distillery Says:
Matured in American oak ex-bourbon barrels, Balblair Vintage 1983 is a rich, warm dram, combining all core Balblair characteristics. Only just launched to replace the 2nd release of 1975 this stunning dram is sure to be just as popular as its predecessor.
Tasting Notes
Appearance: The first release of Balblair 1983 has a rich golden appearance.
Aroma: On the nose there are warm aromas of butterscotch, toffee and vanilla that come from the long years of maturation in American oak ex-bourbon barrels. Citrus fruits can also be detected in the aroma adding to the complexity of this exceptional Vintage.
Palate: On the palate it is sweet and spicy; with overtones of fresh fruits and honey.
Finish: A long, warming and full bodied finish.
What Richard Says:
Nose: There is surprisingly (for a scotch this old) lightness to this with interplay of fruity and floral. Later it develops into vanilla, lemon drops, butterscotch and egg custard.
Palate: Again, surprisingly light and delicate. Honey sweetness drizzled over poached fruit. then it goes to all bourbon barrel vanilla tinged wood spice moving into the finish.
Finish: A tart woodiness that I'm not a fan of with cinnamon dusted raw wood.
Comments: As I continue to get older it is rarer that I get to drink whisky nearly as old as I am. While still a few years shy of me this one comes close. Sadly, this one doesn't really do it for me. Of the four Balblairs we received samples of it was the 1999 and 1990, both sherry finished, that really stood out. The 1983, in all it's bourbon cask woodiness has it's highlights but it doesn't jump out and grab you like the two younger expressions from the 1990's. If it were me i would grab that 1990 and two 1999's rather than drop the coin on the 1983.
Rating: Stands Out
We would like to thank Lukasz with Alembic Communications for sending over the review sample.