Hudson Baby Bourbon Whiskey
46% ABV
$40 to $45 (375ml bottle)
Website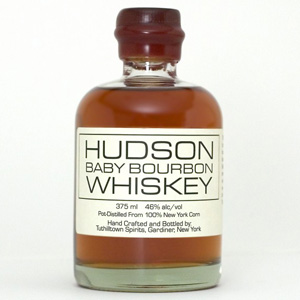 What the Distillery Says:
HUDSON BABY BOURBON is the first bourbon whiskey to be distilled in New York. This single grain bourbon is made from 100% New York corn and aged in our special small American Oak barrels. This unique aging process produces a mildly sweet, smooth spirit with hints of vanilla and caramel. The BABY is Tuthilltown's first whiskey and the first legal pot-distilled whiskey made in New York since prohibition. BABY BOURBON is a perfect introduction to aged whiskey spirits. It is mild and friendly, bright to the tongue and warming all the way down. Each bottle is hand waxed and numbered. It is a true American classic. The BABY is our most sought after spirit. Make sure you alert your fine spirits dealer today to ensure your supply.
What Richard Says:
Nose: The corn whiskey is heavy on the nose. There's just a hint of vanilla but not much. No doubt from the short(3 months) time in the barrel. Oddly, there is something here that reminds me of Woodford Reserve.
Palate: Sweet cornbread drizzled with cinnamon icing.
Finish: It is a little hot on the finish but smoother than I expected.
Comments: I'm not the biggest fan of the craft whiskey movement. I find most of it over priced and underwhelming. However, this one is hiting some interesting flavor spots for me. It's very tasty and approachable. It's still a little hard to swallow at $40 to $50 for half bottle but very tasty.
Rating: Stands Out
We would like to thank Jaimie and Exposure America for providing us with a review sample. They were also kind enough send over a cocktails suggestion too!
Blackberry Baby Bourbon Sour
2 oz. Hudson Baby Bourbon
3-4 Fresh blackberries
0.75 oz. Simple syrup
0.75 oz. Lemon juice
Add to pint mixing glass: 3-4 fresh blackberries + 0.75 oz. simple syrup, muddle well. Add 0.75 oz. lemon juice, 2 oz. Baby Bourbon, and ice. Shake vigorously. Double strain into cocktail glass. Garnish with blackberry folded into lemon twist on pike.