Laphroaig Select Islay Single Malt Scotch Whisky
40% ABV
$55
Website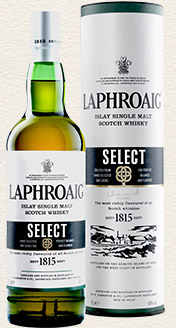 What the Distillery Says:
Laphroaig®, the world's #1 Islay Single Malt Scotch Whisky, proudly introduces its newest expression, Laphroaig® Select Scotch Whisky. This new, innovative expression brings the distinct styles of the Laphroaig portfolio together to create a new expression that stays true to the brand's heritage with an added layer of complexity and depth brought about by marrying various maturation styles and different oaks.
The liquid is carefully selected by Laphroaig Master Distiller, John Campbell, from the finest casks representing the favorite styles of Laphroaig – Quarter Cask, PX Cask, Triple Wood and Ten-Year Old Casks – creating a subtle blending of peat, oak and sweetness. The true heart of the spirit is then drawn from a final maturation in new American Oak casks, rarely used in Scotch Whisky maturation. During the last six months of aging, Laphroaig Select rests in the highest, warmest reaches of the warehouse throughout the Scottish summer.
The inspiration behind Laphroaig Select Scotch Whisky, and the unique method of aging, comes from the history and family lineage of the Laphroaig brand. Ian Hunter, the last family member to own Laphroaig, was influential in experimenting with new ways of distilling and was one of the first to combine American bourbon casks with traditional European casks to create new flavors, which at the time had not been seen. Laphroaig Select takes inspiration from Ian, creating a new expression with both classic and new flavors.
"Laphroaig Select is a true original and, as always, we have stayed true to our roots, using the fantastic Laphroaig heritage as inspiration for this new innovation," said John Campbell, Laphroaig Master Distiller. "Laphroaig Select delivers a liquid with a unique marriage of our trademark 'peat reek' and a gentle sweetness, which we hope will both surprise and delight you."
At 80 proof, Laphroaig Select is best enjoyed neat or with a splash of water to release the earthy aroma of blue peat smoke, sweet nuttiness of barley and the heathery perfume of Islay's streams. Laphroaig Select is available at fine retail locations in select markets nationwide with a suggested retail price of $55.00 per 750ml bottle. Laphroaig Select joins the Laphroaig portfolio of Scotch whiskies that includes Laphroaig 10-Year-Old, 10-Year-Old Cask Strength, Quarter Cask, 18-Year-Old, 25-Year-Old, QA Cask, Triple Wood and Cairdeas 2014 Amontillado Edition.
What Richard Says:
Nose: A little of the Laphroaig brine and smoke but it starts to get pushed aside by the sherry notes. They don't seems to be playing well together but rather jockeying for position.
Palate: Very sweet. That's the initial impression. It's like an Islay with training wheels. It's lighter and almost watery in viscosity compared to other Laphroaigs. Seriously, this reminds me of Cloraseptic throat spray.
Finish: Iodine, raisins, a little smoke, and more Cloraseptic.
Comments: I try this and I ask myself…"Are we losing something here?" Granted, taste is VERY subjective. I would never think that my opinions on any whiskey should be your opinions on whiskey. With that caveat out of the way I ask myself why is Laphroaig messing with a great thing? We start off with the classic 10 Year Old Laphroaig. The bourbon casks let the malt shine through. In it's cask strength version I think it is one of the three best single malt scotches available at 10 years of age (Springbank and Talisker being the other two). So if you're Laphroaig you say "let's monkey around with near perfection." So you dump that ex-bourbon barrel Laphroaig into Quarter Casks. Okay, so the Quarter Cask is pretty good…not as good as the 10 but good. It also helps with the surge in demand because the QC can come out quicker without the age statement. Fine, I understand the nature of business. Next you say "what if we take the QC and dump it into Oloroso sherry wood?" Okay, now you've added Triple Wood. To me it's moving in the wrong direction and I find it lacking next to the 10 and the QC but sherry is big now so some other people may like it. Now, with Select, you take all that came before and throw in some PX wood too before dumping it into new american oak. Why? I have no idea. I love Laphroaig. I really do. But this bottle leaves me asking why? It's like a remnants batch made of all the leftover stuff in the warehouse. Too may hands (read wood finish) in the pot. On top of that, Laphroaig is monster malt and does well with proof. 80 proof just isn't' cutting it.
Rating: Average
I would like to thank the folks at DBC PR & Social Media for sending over a bottle for review.