Russell's Reserve Small Batch 10 Year Old Kentucky Straight Bourbon Whiskey
45% ABV
$31.99
Website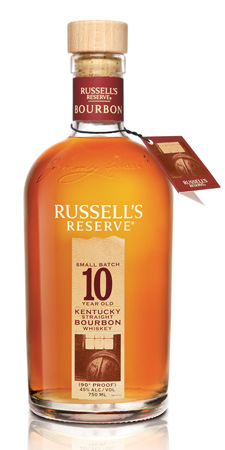 What the Distillery Says:
In 1954, Wild Turkey's Master Distiller Jimmy Russell began his career at the bottom of the totem pole, learning the bourbon making process from his two mentors, former Master Distiller Bill Hughes and Ernest W. Ripy, Jr. Fast forward to 1981 and his son, Distiller Eddie Russell, joined the distillery to learn straight from the "Buddha of Bourbon" himself. For more than 30 years, the Russells have worked side-by-side, accumulating more than 94 years of experience between them to preserve the craft and heritage of the brand.
When Jimmy was getting ready to celebrate his 45th anniversary with Wild Turkey, everyone thought he would retire. So, his son Eddie set out to create a special Bourbon in honor of his father and to also prove to his dad that the student had become the master and was capable of creating a great Bourbon on his own.
After searching the warehouses for the perfect 8- to 12-year aged Bourbon barrels that had just the right flavor, color and smooth finish, Eddie started giving Jimmy tastes of different Bourbons without telling him what they were for. In the end, it was a 10-year-old Bourbon that had Jimmy smacking his lips and wondering just what his son was up to.
After that, the rest was history. Russell's Reserve 10 Year Old Bourbon is deep amber in color with a nose that is rich in vanilla, oak, toffee and a touch of old leather and a spicy palate with notes of chili peppers, tamarind, almonds and cumin. It hits all the right notes to be worthy of the man who is known as the "Master Distiller's Master Distiller" among industry peers.
It turns out, Jimmy wasn't ready to retire in 1999, and at 80-years-old is still at the distillery, side by side with Eddie making Russell's Reserve. In September, he will celebrate an incredible 60 years with the company.
Created by a son for his father, Russell's Reserve 10 Year Old Bourbon (MSRP $31.99) is the perfect gift for Father's Day this year.
What Richard Says:
Nose: Creamy, buttery toffee lies behind that initial burst of alcohol followed by vanilla pot de creme.
Palate: More toffee on the palate put it takes a little bit to open in the mouth. Initially it is a little sharp. More creamy vanilla and honey but also a spicy pepper and dry tobacco flavor.
Finish: Leather, raw wood, and more hints of tobacco.
Comments: This one is like a good looking girl that you have to keep after for her to notice you and give you her number. It comes out of the bottle a little hot, sharp and alcoholic but if you spend time with it you see a bourbon that opens up additional layers. This is definitely a give it time bourbon.
Rating: Stands Out
We would like to thank Andrea at Edible for sending over a bottle to review.