Compass Box Flaming Heart Blended Malt Scotch Whisky
2012 Edition
48.9% ABV
$100 to $120
Website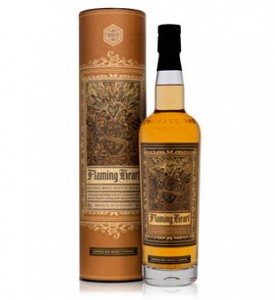 What the Blender Says:
Flaming Heart is back. Every few years, when we have the appropriate combination of aged whiskies, we are able to blend and bottle a new edition of the award-winning Flaming Heart. This is our fourth. It is a big, smoky malt whisky with rich, concentrated vanilla and spice character. It is unlike any other whisky, owing to the combination of distillery whiskies we use and the variety and quality of the casks.
This is a whisky inspired by a rock song.
Appropriate, perhaps, as rock music has long been associated with rebellion against various societal norms. And our humble company
has been associated, for better or for worse, with a reaction against the "traditions" of Scotch whisky production.
We like to think of our approach as reflecting a craft ethos –making whisky better for the sake of it. Flaming Heart is an ideal example of this approach.
It is a whisky that combines Highland single malt whiskies aged on the highest quality, new French oak, with a heavy-peated Islay single malt. And for the first time, we add to this edition of Flaming Heart a small portion of whiskies aged in sherry casks, providing added layers of richness and complexity.
In the melodramatic parlance of a rock lyric, it is a whisky born of fire, yet one with a big heart. Share and enjoy.
Availability
Limited release of 9,147 bottles. Bottled in August 2012.
Flavour Descriptors
A big, complex, smoky malt whisky with rich, concentrated vanilla and spice character.
Recommendations
Sipped neat or with the addition of water, to taste.
Distillery Sourcing
Single malt whiskies from distilleries located in the Northern Highlands, Islay, Speyside and Islands. Primarily from the south shore of Islay and the village of Brora (Highlands).
Wood
A combination of refill American oak (ex-Bourbon), new French oak (heavily toasted) and sherry casks.
Bottling Details
Bottled at 48.9%. Not chill filtered.
Natural colour
What Richard Says:
Nose: A nice smokiness laying low behind a sherry drizzled treacle tart. Wisps of peat float in and out at the edges.
Palate: So viscous it's almost gooey. A quick hit of salty sea air and smoking fish followed by a rich berry sweetness that hits you late in the mouth.
Finish: A campfire built in an old whisky barrel.
Comments: I'm guessing since "Monster" is already taken then "Flaming Heart" was as aggressive a name as they could come up with. This is a massive whisky. The flavors are bold, agressive, and in your face. No holds barred for sure. That being said I think this is more a testament to blending prowess more than large scotch. There are so many bold flavors here but they augment each other instead of fighting for air time. The worst thing about this dram is that Flaming Heart is a periodic limited release. How I was able to get a bottle two years after it's release is beyond me. This should be a wait list worthy scotch!
Rating: Must Buy