Oak Cross Blended Malt Scotch Whisky
43% ABV
$55 to $60
Website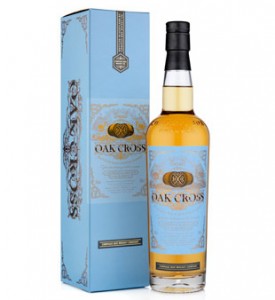 What the Blender Says:
We call this whisky Oak Cross because it offers the best characteristics of both American and French oak aging. A rich, medium-bodied blended malt Scotch whisky, Oak Cross combines vanilla characters from American oak and spicy, clove-like characters from French oak.
Innovative New Oak Casks
We work with a small mill in France that produces some of the highest quality cooperage oak in the world. It was our work with this mill that led us to experimenting with secondary maturation of malt whiskies in casks fitted with new French oak heads. This is something no one else in Scotland does. The result is whisky with more character and complexity. We use this technique on about 40% of the whisky in Oak Cross and it results in a superior finished product.
Flavour Descriptors
On the palate, notes of clove and vanilla accent a sweet maltiness and subtle fruit character.
Recommendations
Suitable as an aperitif served with a chilled water in the winter months. Full enough to serve as a summertime digestif. Excellent match for many cheeses.
Distillery Sourcing
Made entirely of Highland single malt whiskies from the villages of Brora – 60% (fruitiness), Carron – 20% (meatiness) and Alness – 20% (perfume).
Wood
All the whiskies are aged for their primary maturation in a mix of American oak cask types. The marrying casks are a mix of first-fill Bourbon barrels (60%) and our proprietary "Oak Cross" casks made of American and new French oaks (40%).
Bottling Details
Bottled at 43%. Natural colour. Not chill filtered.
What Richard Says:
Nose: Heather, grape jam covered toast, and a back note that's a little meaty.
Palate: Surprisingly sweet. Peaches and cream, raw cane juice, and candied pineapple.
Finish: Woody and dry like an over handled California Chardonnay and then a big whump of spicy pepper and wood that lingers a while ultimately turning almost minty.
Comments: I'm a bit perplexed. I remember this always being my least favorite of the core Compass Box range but tasting it again after several years I don't know why I felt that way. This is delicious.
Rating: Must Try