Would you like the chance to get a little piece of whiskey history and donate to a good cause? Here's your chance. A silent bid charity auction has started for bottle number 93 of the Buffalo Trace Millennium Barrel. Here are details on the bottling: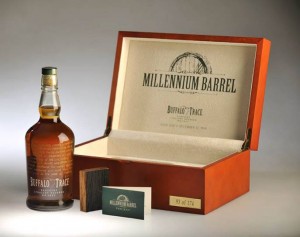 On December 31, 1999, the dawn of the century's turn, one barrel of Buffalo Trace Kentucky Straight Bourbon Whiskey was rolled into famous Warehouse "V", the world's smallest bonded aging warehouse. This one-of-a-kind Millennium Barrel yielded 174 bottles, each bottled by hand and individually numbered. But in addition to finely aged smoothness, each bottle was also destined to lend its value to benefit charitable organizations, making it a truly generous spirit.
Sure to begin bidding wars among bourbon aficionados, each Millennium Bottle comes in a numbered, lined hardwood showcase box that includes a piece of this historic barrel's charred oak stave.
The current auction runs through October 8, 2011 at 7:00PM EST. All proceeds benefit the Kentucky Employees Charitable Campaign. If you want to get in on the auction you can submit your bid by calling Elly Hixon at 502-564-7250 from 8 AM to 4 PM Monday through Friday or via email at Elly.Hixon@ky.gov. Alternatively, if you want to place an after hours bid you can call 502-330-7889.