The Dalmore Cigar Malt Reserve Highland Single Malt Scotch Whisky
44% ABV/88 Proof
$125
Available in select specialty retailers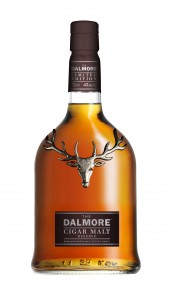 What the Distillery Says:
Matured for the majority of its life in bespoke Oloroso Matusalem sherry butts and bottled at 44% alcohol by volume, the body and character of this extraordinary expression is the perfect complement to a fine cigar. The sherry cask proportion is 70
percent and 30 percent American white oak.
Color: Deep amber gold in colour with glittering highlights.
Nose: Aromas of orange marmalade, honey and citrus fruits abound in sensual profusion.
Taste: The long years spent in the finest Oloroso sherry wood deliver intense notes of crushed almonds, cinnamon and spice to complete the nose of this remarkable expression.
Finish: On the palate creamy vanilla, toffee and sweet pineapples open, followed by rich mango, crushed pear and kiwi fruits. An aftertaste of unsurpassed elegance.
What Richard Says:
Nose: Sherry, orange, and a consistent savory note that I find in a lot of Dalmore.
Palate: Sweet, nutty, and a little spicy on the back end of the palate.
Finish: That nuttiness from the palate really lingers. Vanilla and spicy oak through end of a long slow finish. I don't really get any of the fruit but still a very nice finish.
Comments: Apparently, ever since the refresh of the Dalmore portfolio Richard Paterson keeps getting questions about what happened to the old Cigar Malt. Well, this isn't it but it is very nice. It's not quite Dalmore at the top of it's game like The MacKenzie but it's still a stand out dram. I'll have to take some more time with this and pair it up with a few cigars.
Rating: Stands Out
What Matt Says:
Matt has not had a chance to review this whisky yet.
We would like to thank Laura with The Baddish Group for providing us a sample for review.