Strathclyde 1988 28 Year Old "Old Particular" Single Grain Scotch Whisky
(K&L Wines Exclusive)
58.2% ABV
$80
Website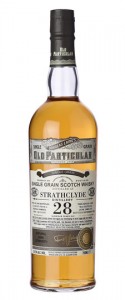 What the Retailer Says:
If there's one thing we can help take credit for here at K&L, it's been helping to remove the undeserved stigma associated with grain whisky in the Scotch industry. Maligned and misunderstood for years, it wasn't until we started launching a number of 25-50 year old releases at ridiculously reasonable prices that hearts and minds began to change. When Nikka brought their delicious Coffey Still editions to the market and people saw just how fruity and delicious these corn and unmalted barley whiskies could be, we think grain whisky finally got over the hump. Crazily enough, today our single casks of grain whisky are some of the most anticipated by our customers. The 28 year old Strathclyde absolutely soaks up the vanilla from the oak barrel and brings loads of soft caramel along with it. At 58.2% there's some power behind all that supple richness, which allows you to add ice or a bit of water.
What Gary Says:
Nose: Medicinal alcohol, very subtle floral/herbal notes with a bit of pepper spice; water opens up a bit of sweetness, but it remains fairly subtle and muted.
Palate: Creamy mouthfeel, sweet corn, molasses, a hint of vanilla and a vegetal note before sharpening; water brings the sweetness around to toffee without ruining the mouthfeel.
Finish: Sharpens, drying while lingering.
Comments: The nose is very understated; and a challenge to get past the alcohol – but improves with some water (which I'd advise at this proof). The palate is nice, and has that hallmark mouthfeel you get with older scotch – but it doesn't have a lot of complexity. I was underwhelmed with my first taste, but have liked it a little more each time – and when the water is dialed in just right – it is a delightfully simple pour with a really nice mouthfeel. I hadn't had a lot of single grain scotch, and couldn't recall having any from this distillery before. If you're looking for a 28 yr old single malt, this may disappoint – different whisky class for sure. But you're not likely to find 28 yr old single malt at this price point either! Don't regret this blind purchase for the experience, but not something I'd stock up on.
Rating: Stands Out
What Richard Says:
Nose: Buttercream and nail polish remover.
Palate: A fantastically rich, viscous, almost chewy whiskey with tons of vanilla cream and toffee candies.
Finish: Exceptionally muted. Without water you get a bit of heat and residual alcohol but with a splash it's almost nonexistent.
Comments: This is a very odd whisky to experience. The taste is great but the nose is a bit off putting. The finish basically doesn't exist so it's hard to say that it helps or hurts the overall experience. For $80 though, it's worth experiencing if you get the chance.
Rating: Stands Out