Loch Lomond Single Grain Scotch Whisky
46% ABV
$30
Website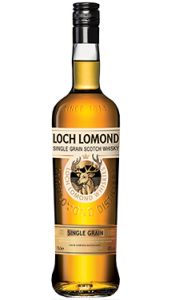 What the Distillery Says:
Single Grain is an elegant and full bodied single grain with a smoothness making this exceptionally easy to drink. A single grain scotch whisky with a distinctive background character of soft fruits and creamy vanilla with a hint of smoke and peat. Perfect anytime over ice or with a hint of water.
Nose: Fresh cut barley fields with a malty edge, biscuity with baked apples alongside gentle lemon peel.
Palate: Crisp and delicate. Pineapple juice and a lemon zestiness with a lovely vanilla sweetness at the end.
Finish: Gentle with soft fruits alongside a juicy sweetness.
What Richard Says:
Nose: Lemon zest, fresh grated ginger, and pineapple flavor Lifesavers candies.
Palate: Very sweet. All the sweetness hinted at in the nose follows through here. More citrus and candied pineapple with a peppery kick.
Finish: The spiciness kicks it up in the finish but playing around edges of fruity sweetness.
Comments: Usually, I find really sweet scotch to be off putting but with the extra kick of proof it works. This is almost a fresh fruit dessert in a glass. Traditionalists may not be the first to line up for this but old and new hands alike should give it a try. It is kind of like lemoncello, bourbon, and grain scotch had a love child.
Rating: Stands Out
We would like to thank the Loch Lomond Group for sending us a bottle to review.