Auchentoshan American Oak Single Malt Scotch Whisky
40% ABV
$39.99
Website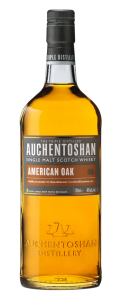 What the Distillery Says:
Triple distilled and matured solely in American bourbon casks. The result: a Lowland Single Malt Whisky with the sweet aromas of vanilla and coconut – along with the signature smooth, delicate, Auchentoshan taste.
Tasting Notes
To The Eye: Bright gold.
To The Nose: Bourbon vanilla and coconut with layers of zesty citrus fruit.
To The Tongue: Refreshingly smooth yet lively with vanilla cream, coconut and white peach.
To The End: Crisp with sugared grapefruit and a hint of spice.
What Richard Says:
Nose: Vanilla sugar, orange marmalade, fruit cocktail, and a little sherry.
Palate: More fruit cocktail, a little melted vanilla ice cream (the cheap stuff not vanilla bean), and sweetened condensed milk.
Finish: Spicy with a lingering grassy finish.
Comments: Auchentoshan is one of those funny drams that has to hit me just right when I drink it or I'm completely turned off. When I'm in the mood it's great. When I'm not I want just about anything else. The tasting sessions with this American Oak were all right on. A sweet, smooth, and easy drinking dram. Very nice, if a little underproofed.
Rating: Stands Out
We would like to thank Beam Suntory for sending us a sample to review.