Kirkland Signature Blended Scotch Whisky
Aged 24 Years, Bourbon Cask Matured
40% ABV
$89.99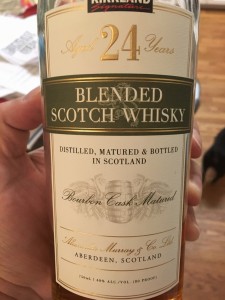 What the Bottler Says:
Combining the knowledge of some of Scotland's master distillers, and using only the purest waters from Scotland's Highland lochs, this Kirkland Signature Scotch Whisky was matured for almost a quarter of a century in hand-picked ex-Bourbon Oak casks. The result is a blended Scotch that is dark amber in color with aromas of freshly sliced apples and malted barley. It is full-bodied with notes of toffee, dried fruit and oak. These flavors linger on the palate and give way to a long, smooth, warming finish.
What Richard Says:
Nose: Orange zest, dried honeycombs, and under ripe apples. At the back there is just the slightest bit of tobacco.
Palate: This is a very smooth easy drinking blend that drinks a bit younger than it is. There are wisps in the flavor or that polished leather and sweet pipe tobacco note from old scotch but not as much as you would expect. Mostly, what comes through is caramel drizzled fruity sweetness.
Finish: This finishes a little more on the woody side but the blender is right about the long, warming finish.
Comments: Greatest scotch find ever from Costco? No. Although for age statement whores finding a 24 year old blended scotch for under $50 could be a steal. In terms of what it's the bottle you can find better, more interesting (although younger) scotches at this price point but this isn't a bad buy at all either.
Rating: Stands Out