Ardbeg Supernova Islay Single Malt Scotch Whisky
(2015 release)
54.3% ABV
$180
Website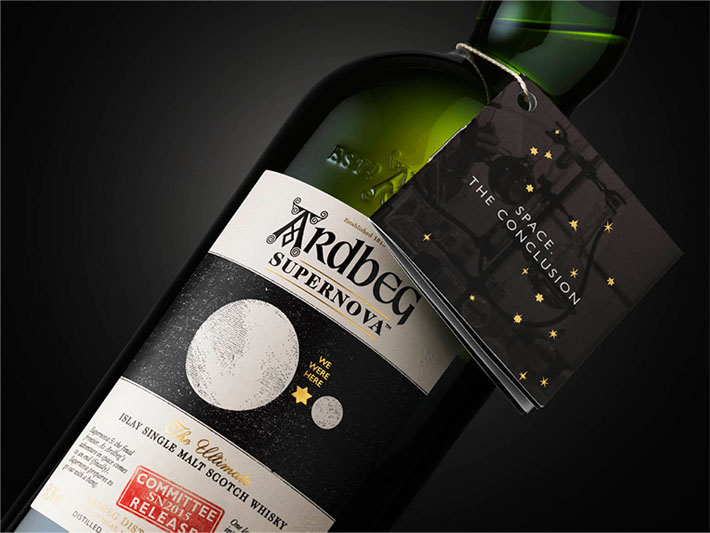 What the Distillery Says:
Ardbeg Supernova is one of the peatiest whiskies on Earth. Yet it is also intensely spicy and unfathomably sweet. Truly a mystery of the universe.
This final, fleeting Committee bottling of Ardbeg Supernova heralds the culmination of Ardbeg's experiment in space. Its release coincides with the publication of Dr Bill Lumsden's highly anticipated White Paper on the mysteries of zero gravity maturation.
TASTING NOTES
A big bang of peat… then heavenly sweet… with a lingering trail of smoke.
Colour: Shimmering pale gold
Nose: A shower of peppery, aromatic herbs shoots through the air, scattering particles of effervescent perfume. In its wake, smoked fruits, briny seaweed and fennel. The sensation comes full circle with the earthy, grounding aroma of vetiver root. Add a few drops of water and luscious linseed oil comes to the surface, sending wafts of sweet smoked toffee, brazil nuts and soot into the atmosphere.
Taste: At 100ppm, the peat is firing on all cylinders, with blasts of spice, salted caramel and billowing smoke. And then it's back to the laboratory, where antiseptic lozenges, medicinal notes and zingy aniseed intermingle with dark tar and intense chilli-spice.
Finish: Prepare for a long, lingering, peppery aftertaste that goes on and on and on…
What Richard Says:
Nose: You know I find it easier to distinguish between different Islay distilleries by nose than any other small clustered whisky making area. Clearly this is an Ardbeg. A richer, nutty, earthier peat.
Palate: Crisp sweetness like salted caramel candies with a sooty, peppery medicinal quality that is more appealing than it sounds.
Finish: Antiseptic and dry. Evaporated Chloraseptic spray.
Comments: So this year's release is to commemorate the completion of Dr. Bill Lumsden experiment on the impact of outer space on the maturation of whisky. If you're really geeky then you can find his white paper here. Personally, I'm a bit more interested in the whisky. 😉 And interesting this one really is. I find Ardbeg to be a more polarizing malt than most. For those that like Ardbeg I think you will really enjoy this. For the rest of you it's an almost $200 chance you might not want to take.
Rating: Stands Out
We would like to thank The Narrative Group for sending us a sample for review.