Cruzan Single Barrel Premium Extra Aged Rum
40% ABV
$29.99
Website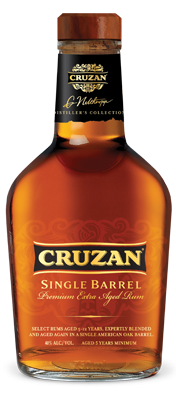 What the Distillery Says:
Using a unique blend of vintage rums that have been aged for up to 12 years, Cruzan® Single Barrel Rum is one of Cruzan's most awarded rums. The term "single barrel" refers to the fact that after its initial aging, the rum is handpicked and blended before it is barreled for a second time in new American oak barrels and slowly aged again. The rum is then bottled and individually numbered one cask at a time. The resulting spirit is a well-rounded, mellow and full-bodied rum with a smooth finish whose distinctive taste is best enjoyed when sipped neat or on the rocks.
TASTING NOTES
Color: Deep amber
Aroma: Rich aroma with hints of dried fruit, wood and light, sweet bakery notes
Taste: Balanced blend of caramel sweetness and oak, with a warm buttery finish
What Richard Says:
Nose: A rich dark whiff of paradise. Caramels, baked fruit tarts, fresh whittled branches (like you use for marshmallows or hot dogs while camping), and a lovely floral perfume.
Palate: Not nearly as overwhelmingly sweet as the nose would lead you to believe. There is a nice vanilla and toffee sweetness at the core but it isn't cloying at all. It's really very light. There is more dancing around the edges (smokey, woody, fruity) than really much vying for the core.
Finish: Dry with a bit of light wood and a minty back note.
Comments: Granted, my nose is so often in a glass of whiskey that many rums I feel like I could smell for hours but this one is especially nice. The palate is surprisingly light in comparison but I feel this makes the rum more versatile as a sipper, cocktail mixer, or whatever.
Rating: Stands Out
We would like to thank Ryan and the team at DBC PR for sending over a bottle for us to review.