Laphroaig Islay Quarter Cask Single Malt Scotch Whisky
48%
$55
Website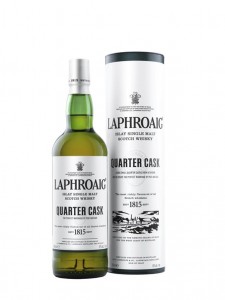 What the Distillery Says:
Laphroaig Quarter Cask offers an irresistible doubling of flavour, due to the double maturation in two barrels made of American oak. Still-maturing whisky from our standard ex-bourbon barrels is transferred to quarter casks and left to rest in our warehouse just a stone's throw from the Atlantic shore.
This process represents Laphroaig breathing new life into a once-defunct tradition: the use of the smaller cask size, which ensures increased contact with the oak, creating a soft and velvety edge to complement Laphroaig's distinctive peatiness.
On the nose the sensation is toffee and caramel, caused by the vanillas and tannins of the American oak, plus a dryness from the wood oil. The finish is long and alternates between this sweetness and smoke.
COLOUR: Full sparkling gold
NOSE: Burning embers of peat in a crofters fireplace, hints of coconut and banana aromas
BODY: Full bodied
PALATE: Deep, complex and smoky yet offers and surprises the palate with a gentle sweetness
FINISH: Really long, and dries appropriately with smoke and spice
What Richard Says:
Nose: This is a campfire the next morning after it has died down and the embers were doused with a light rain or heavy dew. There is also a musty woody note like old polished furniture long forgotten.
Palate: Very creamy in the mouth. The 48% ABV seems to be ideal for viscosity. A nice toffee sweetness plays with the smoky flavors well.
Finish: A little hot and rustic on the finish. Spicy with more lingering smoke.
Comments: A very fine dram in it's own right but it's interesting to compare it to the 10 Year Old Cask Strength. In the 10 year the Islay character comes through more peaty and briney. In the Quarter Cask it comes through much smokier. Not different enough to rock your world but you can't go wrong with either version.
Rating: Stands Out
I would like to thank Ben and the team over at DBC Public Relations for providing us with bottles for review.