Laphroaig Single Islay Malt Scotch Whisky Aged 15 Years
43%
$65+
Discontinued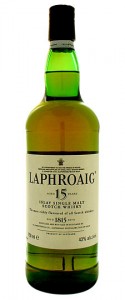 What the Distillery Says:
Mildly smokey with sweet, warm undertones – and just a hint of the sea – Laphroaig Fifteen year old is robust and succulent. Fulfilling and utterly unforgettable. Made in tiny quantities, it is esteemed and savoured around the world by a fortunate few. Enjoy it neat or with a splash of soft water.
What Richard Says:
Nose: Much lighter brine and smoke notes compared to the younger siblings. It's interspersed with a nice floral sweet back note.
Palate: Unseasoned seaweed chips with just a mild hint of sweetness. There's also a minty cherry thing going on in the background.
Finish: Long and dry. And old wood burning stove that's been unused for years.
Comments: This is a long gone bottling replaced by the 18 Year Old back in 2010. When the switch first occurred I swore up and down that I preferred the old 15 to the new 18. However, as time and tastes have mellowed I can't say one is really better than the other. The three years, higher proof, and non-chill filtration make the 18 stand out. Maybe it was just the nostalgia and sadness I felt whenever a good dram was discontinued. I like the 10 Year Cask Strength much better but for those who want a piece of history grab this one if you see it.
Rating: Stands Out