Innis & Gunn Winter Beer 2012
Porter Brewed with Molasses
7.4% ABV
$10.99/4 Pack
Website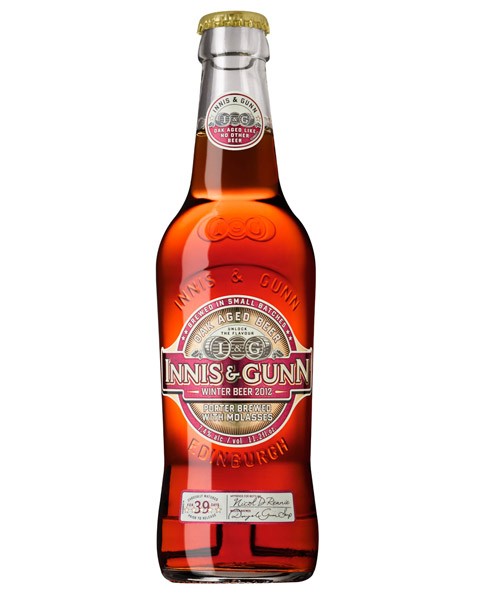 What the Brewer Says:
This is the first time we have brewed and oak matured a Porter, which has been imparted with great depth of flavour thanks to the addition of some roasted wheat, crystal malt and treacle (molasses). * Please note it is called Winter Beer as it was created for our US market (it is exactly the same beer as Winter Treacle Porter)
Nose: Chocolate / Treacle
Palate: Starts light with oak and molasses in the force. Develops a firm, rich malt backbone, with notes of orange oil and oak. Hints of roast malt, tobacco smoke and chocolate.
Finish: The roast malts, molasses and hop bitterness fall into balance and linger with occasional hints of vanilla.
What Richard Says:
Nose: Mmmm, beery. Seriously though, I'm getting yeast, malt, and hops. Classic beer nose.
Palate: Prickly to start but quickly settling into light wood, a creamy sweetness, and roasted malt on the way down
Finish: This is where I'm getting the molasses. Christmas cookies, more malt, and trailing vanilla.
Comments: A very nice beer that I'd be happy to drink anytime or save for special occasions. It's really the finish on this that reminds me of winter and Christmas. The nose and palate just say good beer.
Rating: Stands Out
I would like to thank Shannon Fischer with Handcrafted PR for sending a few of these beauties over for review.